Net Lease Sector Cap Rates Reach New Lows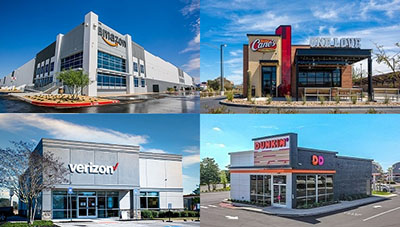 The Boulder Group, Wilmette, Ill., said single-tenant net lease cap rates fell to new lows for all three asset classes in the third quarter.
Cap rates for retail, office and industrial net lease assets fell to 5.80 percent, 6.80 percent and 6.70 percent, respectively, the firm's Third Quarter Net Lease Research Report said.
"Significant investor demand combined with limited supply of quality net lease assets remain the primary driver of continued cap rate compression in the sector," said company President Randy Blankstein. "Furthermore, during the third quarter, the 10-year Treasury yield decreased to its lowest levels since the first quarter of 2021."
Blankstein said owners are adding properties to the market as pricing remains at record highs. Property supply increased by nearly 9 percent during the quarter, driven by an increase in retail and office property listings.
Property supply in the industrial sector decreased by more than 11 percent. Jimmy Goodman, Partner with The Boulder Group, said the demand for industrial assets has caused many transactions to occur prior to a public marketing process. "This contributed to the decline in supply of net lease industrial product," he noted.
The report said less than 25 percent of the retail property supply has more than 15 years of lease term remaining, which is below the historical average. High-quality tenants with long-term leases saw the biggest cap rates compression. Investment-grade-rated tenants including 7-Eleven, AutoZone and Fresenius Medical Care experienced the greatest cap rate compression among new construction properties.
Net lease investors have been monitoring potential tax changes to Section 1031 exchanges, the report noted. In mid-September, the House Ways and Means Committee released a tax proposal without Section 1031 exchange elimination or modification.
"1031 exchange and private investors primarily seek assets with long-term leases and creditworthy tenants," said John Feeney, Boulder Group Senior Vice President. "The limited supply of long-term leased assets created competition among all buyer profiles, resulting in the cap rate compression experienced in the third quarter."
The firm said it expects net lease sector transaction activity to remain active through 2022. "However, the demand for this asset class will be met by supply pipeline issues," the report said.