MBA Sponsors 2021 NextGen Homebuyer Report on Consumer Behaviors, Trends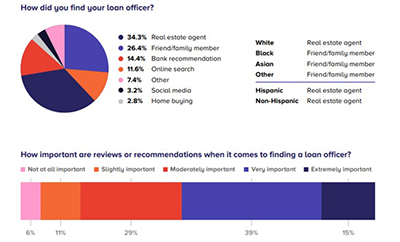 (Graphic courtesy of the 2021 NextGen Homebuyer Report.)
In collaboration with the Mortgage Bankers Association and National MI, Cultural Outreach released the 2021 NextGen Homebuyer Report, which sheds light on the consumer behavior of the largest growing demographic of homebuyers, including insight into the financial behavior and perspectives of a young generation in the midst of a pandemic.
Following up on the 2020 NextGen Homebuyer Report, Cultural Outreach surveyed 1,000 NextGen homebuyers, defined as buyers from ages 22-37, including Millennials and Generation Z, to understand their mindsets and experiences related to homeownership, particularly during the current climate of change and volatility. All of those surveyed had purchased a home in the past three years or were planning to purchase a home soon.
The report said more than 90 percent of recent NextGen buyers felt satisfied with their homebuying experience, reflecting a remarkably positive outlook on purchasing a home during and shortly after the COVID-19 pandemic. However, a quarter of recent buyers claimed their most significant challenge while buying a home was a lack of understanding around the process and time involved. These sentiments were echoed throughout the survey.
The survey also found only half of recent NextGen buyers reported a great experience with their loan officer. Only one in three (27.9%) of current or future NextGen buyers thought lenders are trustworthy and reliable.
"Buyers rely on real estate professionals and bank recommendations to find loan officers, unlike real estate agents who were typically found via independent online searches and recommendations from personal networks," the report said. "Recent buyers lack a solid understanding of the process and amount of time it takes to buy a home. Transparent mortgage or homebuying pricing, an earlier outlining of the homebuying process, and more responsiveness were also listed as common suggestions to improve the buyer and loan officer relationship.
The report said due to the lack of personal finance education available, this generation has instead turned to their own independent research and personal networks. The report's research emphasizes the need for empowering education, third-party reviews and social media content to support capturing and retaining this customer segment.
"Despite a year of uncertainty and a shift in purchasing habits, NextGen homebuyers expressed resiliency and adaptability," said Kristin Messerli, founder of Cultural Outreach and co-author of the report. "This year, we were able to go deeper into some of the fears and expectations of this generation, examining nuances across race, socioeconomic background and experiences in the homebuying process."
"Our goal is to better understand today's borrowers and support best practices that will help generate more business in a fast-changing market," said Steve O'Connor, SVP of Affordable Housing Initiatives with MBA.