mPowering You: Accelerating Gender and Racial Equity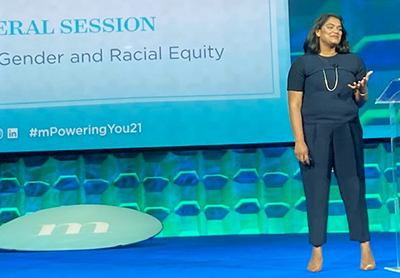 (Ishanaa Rambachan of McKinsey & Co. speaks at the mPowering You Summit in San Diego Oct. 16.)
SAN DIEGO—Ishanaa Rambachan, a partner with McKinsey & Co., puts things bluntly: "This is one of the most tumultuous times to be a woman in the workplace."
Speaking here at mPowering You: MBA's Summit for Women in Real Estate Finance, Rambachan said a recent McKinsey study found over the past 18 months, women are "hanging on—but burning out." And for women of color, the challenges are even more acute.
McKinsey, a global consulting firm, partners with LeanIn.org to produce Women in the Workplace, the largest annual study tracking the progress of women in corporate America. Rambachan noted one positive change from the pandemic is that women became more represented; however, women of color remained underrepresented in the C-Suite.
"This is something that hasn't shown much movement over the past three years," Rambachan said.
In the financial services industry, the results are similar, the study found. "These results are unsustainable—we have a broken rung," Rambachan said. "Women are still promoted at far fewer levels than men—women continue to lose ground at the first step toward management."
The pandemic has created a higher degree of burnout—for men and women, but particularly for women, even as women leaders have taken on the lion's share to support employees and invest in diversity, equity and inclusion during COVID. "Senior-level women are sponsoring roughly two times more women than their male peers at the same level," Rambachan said. "Women are also doing more at the senior level to promote DEI, even if it's not part of their job description."
Companies really need to pay attention to this, Rambachan said. The study found that companies that take a more active role in supporting DEI have a healthier work environment. But the study also found companies often provide that support—and for women of color, LGBTQ+ and women with disabilities, they are more likely to face microaggressions in the office. "This is an area that must be focused on," Rambachan said.
The study did find that more and more employers see themselves as "allies" for DEI, but that hasn't translated yet to measurable action. "Many people say they are 'allies,' but they don't necessarily know how to define it," Rambachan said.
The study said companies can take concrete action to promote a more diverse and inclusive workplace. For example, companies that focus on tracking progress on diversity and inclusion have healthier workplaces. "If you're holding senior leaders accountable for progress, it has a very positive impact on the ability to increase diversity and equity," Rambachan said. "We also see companies trying to minimize race and gender bias in hiring and promotion—that nudge alone is showing that some companies are making significant changes."
Mentorship and sponsorship programs also promote a more inclusive workplace—the study found that employers that have such programs in place have a stronger culture of inclusion.
Looking ahead, Rambachan said, there is optimism. "Workers are demanding more flexibility—and getting it," she said. "This move toward flexibility in the workplace will have more benefits for women."
"We are in a moment of real change," Rambachan said. "Employers must move forward with intention, concrete commitment and bold action. We need to treat employee well-being and DEI with the same commitment and action."