RMQA21 Fraud Update: 'Be Alert For Red Flags'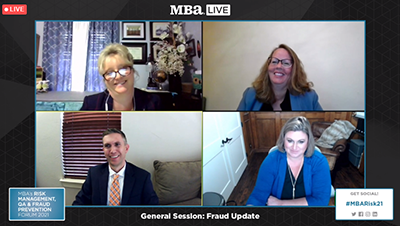 (Clockwise from top left: Christa Lynn Greco, Jennifer Link, Jennifer Judge, Kip Mendrygal.)
WASHINGTON, D.C.–The mortgage industry needs to be prepared for increased fraud activity as the pandemic and the recession fade, law enforcement, legal and mortgage servicing analysts said at the recent Mortgage Bankers Association's Risk Management, QA and Fraud Prevention Forum 2021.
"During the 2008 financial crisis the housing market crashed as mortgagers defaulted at record levels, home prices dropped, mortgagers lost houses to foreclosures and the whole economy suffered trillions of dollars of lost growth," said Christa Lynn Greco, Intelligence Agent with the Federal Bureau of Investigation Criminal Investigative Division. "At that time, fraudsters used that opportunity to target mortgagers for a variety of different schemes, including loan modification fraud, short sale fraud and bankruptcy fraud. We see some of those things are still ongoing at a low level at the present. But we also have to talk about how some of those things might ramp up in the next 12 to 24 months and what they are going to look like based on the current economic climate."  
Greco noted the FBI's mortgage industry partners are not currently reporting a significant amount of COVID-spurred fraud directly related to mortgages. "But we think that once the foreclosure and eviction moratoriums are lifted, we may see a significant uptick in distressed homeowner-type fraud schemes," she said. "Also, mortgagers may have gotten used to making reduced payments for their mortgages and they may be in for a shock once the moratoriums on foreclosures and evictions are lifted."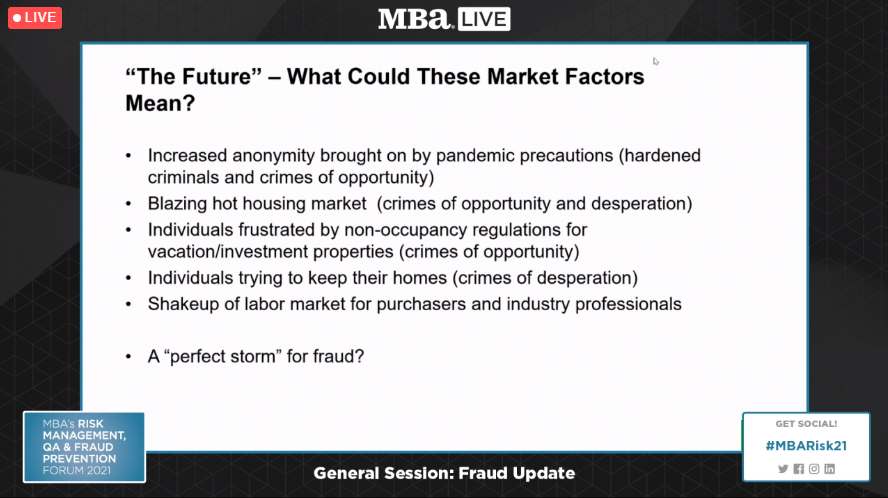 Greco noted that in some very hot housing markets, sellers sometimes receive multiple offers as soon as their house hits the market. "That could mean hundreds of thousands of dollars are being negotiated above the asking price," she said. "That's ripe for predatory lending and seller assistance and fraudulent document types of fraud."
Jennifer Judge, Senior Vice President and Deputy General Counsel with Caliber Home Loans, Coppell, Texas, agreed. "If someone is pre-approved for a mortgage for a $400,000 home, then they buy it for $700,000, where does that extra $300,000 come from?" she asked. "Why do many of these purchases seem to happen in cash? There seems to be an opportunity for fraud there that did not previously exist."
Judge said the shift from an in-person workplace to a virtual workplace for many employees allowed some people to perpetuate fraud not previously seen. "The entire country shifted in two weeks to working from home entirely," she said. In addition, the longer-term shift from W-2 employment to more 1099 "gig economy" jobs gives bad actors more opportunities to create false records, Judge said.
"Be alert for red flags," Greco said. "If you need any help, reach out to us and we'll help you identify them."
Kip Mendrygal, Partner with law firm Locke Lord LLP, Chicago, said most people agree enforcement actions have fallen over the last 12 months. He cited several reasons for this trend: "First, white collar enforcement in general has been trending down since peaking in 2010 or 2011," he said, noting more than 10,000 cases were filed in 2010 in the wake of the 2008 housing crash compared to about 4500 last year. "And we are on pace for about 4800 in 2021, so we're talking about not just a trend down, but basically cutting the number in half," he said.
In addition, Mendrygal said federal law enforcement has focused increasingly on deterrence. "If five people are doing something bad, you don't necessarily need to catch all five, but you'd better catch at least one of them and use that case to send a message to the other four," he said.
The pandemic presented another challenge to federal authorities, Mendrygal said. "The pandemic put a stick in law enforcement's spokes," he said. "Even federal agents have had to deal with things that the rest of us have had to deal with when it comes to working from home. There were restrictions on travel, courts were sometimes closed, which means getting grand juries empaneled is a bigger chore than it used to be. And it was hard to get records from firms where people were working from home."
The final factor that slowed enforcement came from Washington, but that could change very soon, Mendrygal said. "There was a new administration [in January]; it takes time for them to set a new agenda," he said. "Most people agree enforcement was down in 2021, but that's fixing to change really quickly and perhaps dramatically."