MBA, Trade Groups Urge Retention of 'Unlocking Possibilities' Program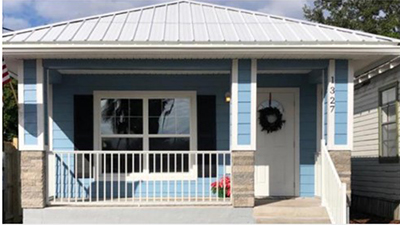 (Habitat for Humanity-built home in Hillsborough County, Fla. Photo courtesy of Habitat for Humanity.)
As Congress continues to consider fiscal year 2022 budget packages, the Mortgage Bankers Association and more than a dozen industry advocacy groups urged support of a widely documented program supporting housing supply and affordability.
Section 40103 of the Fiscal 2022 budget reconciliation package includes continued funding for the Unlocking Possibilities Program, a planning grant program to support regions, states, cities and tribes in their efforts to eliminate barriers and spur housing production while preserving local and regional decision-making and housing policy implementation.
Created through the Housing Supply and Affordability Act, the program encourages adoption of pro-housing policies, plans and updated codes, and targets funding to areas most in need of housing and where the most significant imbalances exist between the number of jobs and the amount of available housing. It would also spur regional planning and collaboration in multi-jurisdictional coalitions and prioritize funding for communities with existing public transportation options.
"These provisions represent an innovative and bipartisan approach to addressing the nation's housing affordability crisis – a challenge facing regions, states and communities as rising home prices continue thwart homeownership and affordable rent for working and low-income families nationwide," the letter said.
The letter noted up to 3.81 million additional homes are required to close the housing gap in the U.S.; some estimates put this number at more than 5 million homes.
"The program would also take a giant leap toward supporting communities in their efforts to address historical injustices created by discriminatory housing policies and such as lending 'redlines' and the displacement of communities from restrictive zoning rules that limit the building of multi-family homes in single-family neighborhoods," the letter said. "These and other provisions offer a clear path for confronting a housing crisis that existed before the COVID-19 but was exacerbated by its impact, as home prices continued to rise, and housing inventory declined across the country."
Joining MBA in the letter: American Institute of Architects; American Planning Association; Center for Community Progress; Council of Large Public Housing Authorities; Habitat for Humanity International; LOCUS: Responsible Real Estate Developers and Investors; Minnesota Housing Partnership; National Apartment Association; National Association of County Community and Economic Development; National Association of Realtors; National Association of Hispanic Real Estate Professionals; ReFrame Foundation; Up for Growth Action; and YIMBY Action.