MBA Recognizes 48 New Certified Mortgage Banker Graduates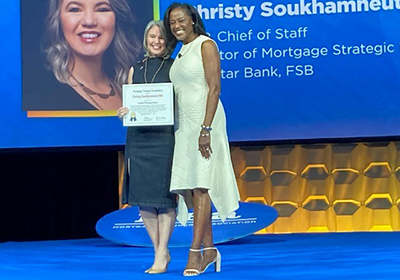 (MBA Chairman Kristy Fercho (r) presents MBA Education CMB designation to Christy Soukhamneut, CMB, of Flagstar Bank at the MBA Annual Convention & Expo in San Diego Oct. 17.)
SAN DIEGO—MBA Education, the award-winning education division of the Mortgage Bankers Association, recognized 48 individuals who earned the Certified Mortgage Banker (CMB®) designation at a ceremony held during its 2021 Annual Convention & Expo.
Earning one's CMB is the highest professional honor within the real estate finance industry. This year's designees are the largest graduating class since 2007. The 48 CMBs who received their designations this past calendar year will join a group of more than 1,300 industry professionals who have proven their commitment to excellence within the mortgage banking industry.
"Achieving a CMB designation is an incredible feat, and I congratulate this year's designees for their hard work and commitment," said Kristy Fercho, MBA Chairman and Executive Vice President and Head of Home Lending at Wells Fargo. "With this designation, each graduate will be able to expand their already successful respective careers within the industry."
MBA Education awarded the following industry professionals with the CMB designation from November 2020 to October 2021:
Residential CMB Designees
• James Ahrens, CMB: Group Vice President, M&T Bank – Buffalo, NY
• Hector Amendola, CMB: President, Americana Home Loans – Las Vegas, NV
• Kathryn Anderson, CMB, AMP: National Business Development, TENA Companies Inc. – St. Paul, MN
• R. Christopher Baker, CMB: General Counsel, Nations Lending Corp – Cedar Park, TX
• Lindsay Walters Barbera, CMB, AMP, CMS: Regional Director, Lenders One – Baton Rouge, LA
• Brit Barker, CMB, AMP: VP, Enterprise Solutions, Origence – Irvine, CA
• Peter Benjamin, CMB: Senior Vice President of Mortgage Lending, Lafayette Federal Credit Union – Rockville, MD
• Rhiannon Bolen, CMB, AMP: Enterprise Solutions Executive, ICE Mortgage Technology – Dallas, TX
• Jeff Bonner, CMB: Managing Director, Sterling National Bank – New York, NY
• Lindsay Chatman, CMB, AMP: Structured Transactions Director, Freddie Mac – McLean, VA
• Mary Margaret Chiavini, CMB: Regional VP, Correspondent Sales West, Caliber Home Loans – Reno, NV
• Andrew Clarkson, CMB, AMP: Vice President, Regional Mortgage Production, Lake Michigan Credit Union – Grand Rapids, MI
• Tammy Dixon, CMB, AMP: Commercial Real Estate Broker, NAI Piedmont Triad – Greensboro, NC
• Daniel Blake Duncan, CMB: AVP, Pricing & Profitability Analyst, Citizens Bank – Vienna, VA
• Michael D. Dunn, CMB: General Counsel, FBC Mortgage LLC – Orlando, FL
• Mike Eshelman, CMB, AMP: Senior Vice President, Marketing, PennyMac Financial Services, Inc. – West Lake Village, CA
• Sherry Gallitz, CMB: Senior Account Executive, Union Home Mortgage – Saint Johns, FL
• Roy George, CMB: Managing Partner, MOR Lending – Lake Mary, FL
• Jamie Gray, CMB, AMP: AVP, Strategic Accounts, Arch Mortgage Insurance Company – Greensboro, NC
• Lisa Heitzmann, CMB: Principal, LGH Consulting – Charlotte, NC
• Marc Hernandez, CMB: President, Alterra Home Loans – Las Vegas, NV
• Brian Hill, CMB, AMP: President and CEO, Aspire Home Loans – Austin, TX
• W. Travis Jones, CMB, MBA: Senior Vice President, Strategic Growth Executive, Atlantic Bay Mortgage Group – Salem, VA
• Lindsay Kaptein, CMB, CRU: Vice President, NewDay University, NewDay USA – Fulton, MD
• Kenneth Knudson, CMB, AMP: President and CEO, Primary Residential Mortgage Inc. – Salt Lake City, UT
• Milan Kosanovich, CMB, AMP: Vice President, National Account Manager, National Mortgage Insurance Company – Jupiter, FL
• Jennifer Lopez Kouchis, CMB: SVP, Real Estate Lending, VyStar Credit Union – Jacksonville, FL
• Robert Marley, CMB: Vendor Management, Bayview Loans – Coral Gables, FL
• Cheri McCarthy, CMB, AMP: Managing Director, National Mortgage Insurance Company – Kennebunkport, ME
• Erin McHugh, CMB, AMP: Vice President, Warehouse Lending, PlainsCapital Bank – Dallas, TX
• John Mezzasalma, CMB, AMP, CPA: Senior Vice President & Chief Accounting Officer, Cenlar FSB – Ewing, NJ
• Owen Munton, CMB: VP, Mortgage Production Manager, HancockWhitney Bank – Hattiesburg, MS
• Ralph Parsons III, CMB, AMP: VP, MSR Portfolio Management, BSI Financial Services – Irving, TX
• Christopher C. Raleigh, CMB, AMP: Director of Capital Markets, Semper Home Loans – Providence, RI
• Justin Raley, CMB, AMP: VP, National Diverse Market Segments, Bank of the West/BNP Paribas – Coppell, TX
• Susan Ramos, CMB, AMP: Director – Sales, MAXEX – Newtown Square, PA
• Sandra W. Redd, CMB, AMP: Finance Manager, Capital Markets, Virginia Housing Development Authority – Richmond, VA
• Marlene Ruiz, CMB, AMP: Account Executive, Flagstar Bank, FSB – Weston, FL
• Mickey Schilling, CMB: VP, Acquisitions and Development, The Mortgage Firm – Milton, GA
• Ben Shaevitz, CMB: SVP, Wholesale Lending, Civic Financial Services – Los Angeles, CA
• Sean A. Stephens, CMB: Chief Legal Officer, Metroplex Mortgage Services, Inc. – Tampa, FL
• Matthew Tully, CMB, AMP: SVP, Chief Compliance Officer, Sagent – Washington, DC
• Jaelynne McMaster Vik, CMB: Account Executive, Flagstar Bank, FSB – Orange County, CA
• Jenny Vipperman, CMB, AMP: Chief Lending Officer, VyStar Credit Union – Jacksonville, FL
• Kathy Weber, CMB: Vice President, Residential Lending, Delta Community Credit Union – Atlanta, GA
• Matt Wright, CMB, AMP: Chief Financial Officer, First Community Mortgage, Inc. – Murfreesboro, TN
CMB Designees from the Residential Executive Certified Mortgage Banker program
Carol Norton, CMB: Senior Vice President, Servicing Systems, New American Funding – Austin, TX
Andy Schafer, CMB: Senior Vice President, Origination Technology Sales, Black Knight – Ashburn, VA
CMB candidates must acquire 150 points earned through a combination of professional experience, secondary education, continuing education through MBA and industry-sponsored events, MBA Education courses, as well as participation in events and activities at the local, state and/or national MBA level. After accumulating the required points and passing a comprehensive written exam, candidates must demonstrate industry knowledge by passing an oral exam conducted by a panel of CMBs.
Candidates have the option of choosing between the traditional Residential CMB enrollment path or the Executive CMB enrollment path. Both enrollment options result in the same CMB designation, but the Executive CMB enrollment is designed for senior executive-level professionals within current MBA member companies. This enrollment options allows candidates to substitute their extensive real-world industry knowledge and experience for many of the educational point requirements of the CMB program.
To be eligible for the CMB designation, candidates must be currently employed in the industry, work for a current MBA member company or be a member of a recognized state/local MBA. All candidates pursuing the Executive CMB enrollment option is required to have a minimum of 10 years of senior executive-level experience in real estate finance and currently hold a senior executive level position at a current MBA member company.
For more information about MBA professional designations, visit www.mbaeducation.org.