MBA Honors Peter Norden with Woodward Distinguished Service Award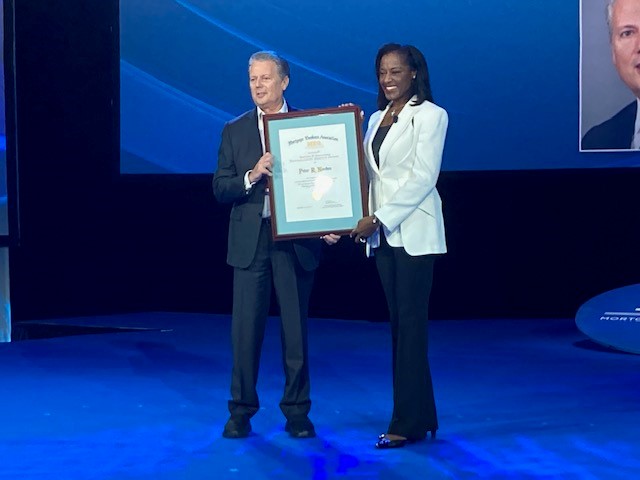 (MBA Chairman Kristy Fercho (r) presents Peter Norden with Andrew D. Woodward Distinguished Service Award.)
SAN DIEGO—The Mortgage Bankers Association honored Peter Norden, CEO of HomeBridge Financial Services Inc., Irvine, Calif., with its Andrew D. Woodward Distinguished Service Award.
The award is presented in recognition of dedication and prominent service to MBA and the mortgage lending industry in a variety of capacities involving both legislative and regulatory activities. MBA presented Norden with the award in a ceremony held during its 2021 Annual Convention & Expo.
"Peter deserves to be recognized for his dedication to ensuring that our industry and its customers are well-served in both the legislative and regulatory spaces," said Kristy Fercho, MBA Chairman and Executive Vice President and Head of Home Lending with Wells Fargo. "He has been a fierce advocate for our industry, and I am honored to present him with this year's Andrew D. Woodward Distinguished Service Award."
Norden has more than 40 years of experience as an executive-level officer in the mortgage banking industry. As CEO of HomeBridge, he has overseen continued growth of the organization's national loan origination and servicing operations. In 2018, Homebridge closed more than $11 billion in originations with annual revenue in excess of $485 million and is currently servicing more than $7 billion in mortgages.
In early 2017, Norden presided over HomeBridge's largest acquisition to date, adding more than 100 branches to HomeBridge's operational footprint, bringing the total branch count to 250, and growing the company's origination workforce by 500 to 3,000 employees.
Before joining HomeBridge, Norden held other leadership positions in the residential mortgage lending industry, most recently as CEO and president of Opteum Financial Services Inc., which he founded in 1999.
Norden is active in the residential mortgage lending community at both the state and national levels. He is currently on the MBA Board of Directors and is a member of the Fannie Mae Customer Advisory Board. Previous board memberships include the Fannie Mae CEO Advisory Board, FHLMC Advisory Board and the GMAC/RFC National Advisory Board.
The Woodward Distinguished Service Award is the highest honor an individual can receive from his or her fellow MBA members. Nominees for the annual award must meet the following criteria:
Be associated with an MBA member firm;
Compile a record of long, sustained, and extraordinary service to MBA and the mortgage industry; and
Have a strong reputation for ethical and professional conduct.