MBA Elects 2022 Officers: Kristy Fercho, Matt Rocco, Mark Jones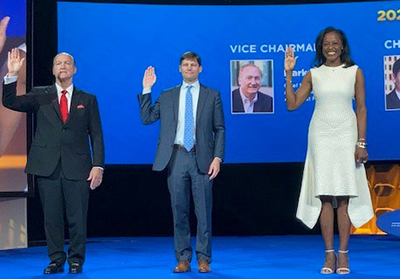 (l-r: Mark Jones, Matt Rocco and Kristy Fercho are sworn in at MBA Annual Convention & Expo in San Diego Oct. 17.)
SAN DIEGO—The Mortgage Bankers Association swore in Kristy Fercho, Executive Vice President and Head of Home Lending with Wells Fargo, as MBA 2022 Chairman on Sunday during the association's 2021 Annual Convention & Expo.
As head of Wells Fargo's Home Lending division, Fercho leads a team of more than 25,000 mortgage professionals in sales, operations, servicing, capital markets, portfolio management, and related business, risk management, and supporting functions. Wells Fargo is one of the nation's leading combined home lenders and servicers.
"It is an incredible honor to serve as MBA's 2022 Chairman," Fercho said. "I look forward to collaborating with Matt Rocco and Mark Jones to address the opportunities and challenges facing our industry, including developing strategies that will ease our nation's affordable housing crisis and close the racial homeownership gap. The mortgage industry has a responsibility to be part of the solution that levels the playing field and ensures all Americans have access to the American Dream of homeownership."
Fercho has been an active MBA member for many years, and currently serves as Vice Chair of MBA's Diversity and Inclusion Advisory Committee, co-chair of the Affordable Housing Council, and a member of its Residential Board of Governors (RESBOG). She also serves on the boards of City Year and the Detroit Zoological Society.
MBA also swore in Matt Rocco, Chairman of the Board and CEO of Grandbridge Real Estate Capital; and Mark Jones, CEO and Co-Founder of Amerifirst Home Mortgage, y as Chairman-Elect and Vice Chairman, respectively.
Rocco is an active MBA member and currently sits on MBA's Commercial Real Estate Finance Board of Governors (COMBOG). A graduate of MBA's Future Leaders Program, he has also participated on MBA's Origination Council and DUS Peer Group. In addition to being an active member of MBA and the Mortgage Action Alliance (MAA), Rocco is a member of the International Council of Shopping Centers, NAIOP, Urban Land Institute, National Multifamily Housing Council and Pension Real Estate Association.
Rocco joined Grandbridge, a subsidiary of Truist Bank, in 1998. He is currently a member of the firm's Board of Managers, Senior Leadership Team and Risk Committee, where his responsibilities include corporate initiatives and Grandbridge's overall loan origination efforts, as well as the company's Agency Underwriting (Fannie Mae, Freddie Mac and FHA) and Balance Sheet Closing Groups. He also serves on Truist's leadership team and as an advisory member to many of the nation's largest investors and capital correspondents. Prior to Grandbridge, Rocco was engaged in investment banking, bond issuance, underwriting and real estate asset management.
Jones co-founded Amerifirst Home Mortgage in 1983 and has overseen the company's growth from a single site in Kalamazoo, Mich., to more than 80 locations and 900 employees across the country, making it one of Inc. 5000's "Fastest-Growing Private Companies in America" for seven of the past 10 years. Amerifirst is the No. 1 USDA rural housing lender and No. 3 FHA lender in Michigan, and manages a $6 billion servicing portfolio.
Jones currently serves as Chair of the MBA Audit Committee and is a member of the IMB Executive Committee (which he previously co-chaired), the State Relations Committee, the Rural Housing Working Group and the MORPAC Committee. He was also a member of MBA's 2019-2020 Board of Directors.