MBA Announces 2021 Diversity, Equity & Inclusion Residential Leadership Award Winners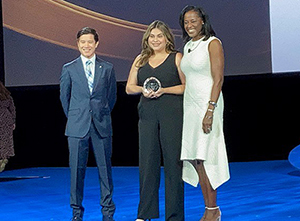 (MBA Chairman Kristy Fercho (r) presents the MBA Organizational DEI Award to Michael Wong and Johanna Laos of Kinecta Federal Credit Union at the MBA Annual Convention & Expo in San Diego Oct. 17.)
SAN DIEGO—The Mortgage Bankers Association recognized five companies as 2021 Diversity, Equity and Inclusion (DEI) Residential Leadership Award recipients at its 2021 Annual Convention & Expo.
The annual awards recognize MBA members for their leadership efforts in DEI in three award categories: organizational DEI, market outreach strategies and non-lender.
"We are now in the sixth year of honoring companies who have displayed outstanding leadership in developing and growing DEI programming," said Kristy Fercho, MBA Chairman and Executive Vice President and Head of Home Lending at Wells Fargo. "The mortgage industry is deeply committed to promoting DEI, and this year's award recipients should be celebrated for their exemplary efforts to create a more diverse and inclusive culture within their organizations."
This year's submissions were reviewed by two groups of judges consisting of members of MBA's DEI Committee and MBA staff. The companies were broken into two groups, based on overall number of employees; then were scored by the quality of their overall submission, identification of a target audience and annual goals, demonstration of a tangible benefit to participants and the overall enterprise, and the replicability of the program. Innovative program approaches and potential success in broadening the culture of the organization through the values of DEI were also considered.
This year's DEI Residential Leadership Award winners are:
Organizational DEI Award: Assurant and Kinecta Federal Credit Union
The Organizational DEI award celebrates company initiatives that were specifically developed and designed to increase DEI within the leadership and employee base of member companies, thereby leading to a mortgage banking industry that may better reflect and understand its customers.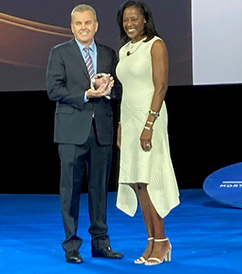 For companies with more than 1,000 employees, Assurant was recognized for its dedication to organizational inclusivity and its focus on supplier diversity. It formed partnerships with more than 10 DEI organizations, provided 2-for-1 matches for employee donations to social justice and anti-racism charities, and developed a "global well-being initiative" to support mental health awareness among their employees.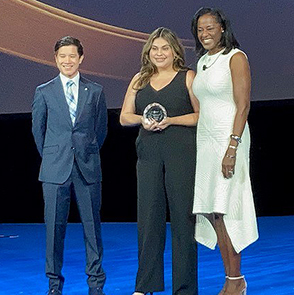 For companies with less than 1,000 employees, Kinecta Federal Credit Union was recognized for its newly established, in-depth DEI program. Additionally, it developed Kinecta Emerging Leaders Program (KELP), a retention and promotion program that focuses on boosting employee engagement and morale.
Market Outreach Strategies award: Huntington Bank and First Community Mortgage
The Market Outreach Strategies award recognizes company initiatives specifically developed and designed to increase outreach, marketing and products to attract customers from the industry's fastest-growing market segments.
For companies with more than 1,000 employees, Huntington Bank was recognized for its unique proprietary products and loan officers compensation models. Specifically, products for its "Home Lending Community Access Mortgage" program emphasized low- to- moderate-income borrowers and racially diverse lending. Furthermore, Huntington structured its Home Lending program's LOs' compensation to encourage small-dollar loans. It also created incentives for its managers' pipeline composition to be tied to LMI census tract loans.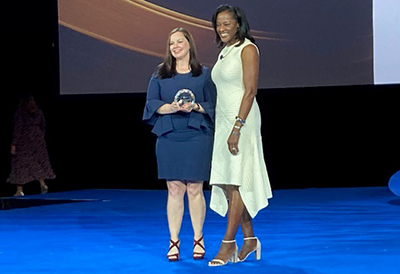 For companies with less than 1,000 employees, First Community Mortgage was recognized for its Multicultural Lending Initiative, which has been expanding its mission and footprint, specifically to Kurdish borrowers in Nashville, Tenn., and Hispanic borrowers in Texas. It also launched the American Home Opportunity Mortgage Fund, a partnership with a capital fund to conduct Individual Taxpayer Identification Number lending, allowing First Community to expand its lending to non-US citizens.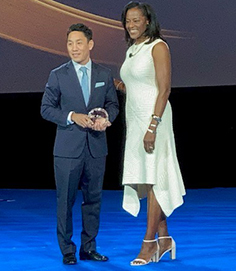 Non-Lender award: Baker, Donelson, Bearman, Caldwell & Berkowitz PC
For the non-lender category, Baker, Donelson, Bearman, Caldwell & Berkowitz PC was recognized for its efforts in creating a robust program to recruit, retain and promote women and minority attorneys, with a particular emphasis on women. For example, it has a Women-to-Equity cohort program that provides opportunities for women to advance within the firm. Additionally, it adopted the Mansfield Rule, a voluntary initiative among law firms to ensure at least 30% of job applicants are women, attorneys of color, LGBTQ+ or attorneys with disabilities.
MBA's Commercial and Multifamily DEI Leadership award will be announced at the 2022 CREF/Multifamily Housing Convention & Expo. Visit this website for updates.