Nicholas Whiteside Closes the Deal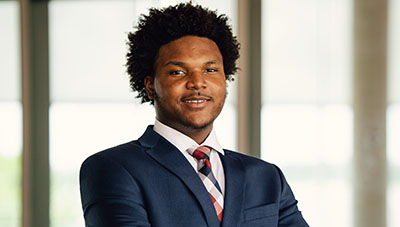 Michael Tucker mtucker@mba.org
(This article appears in the MBA Annual Convention Show Guide. It has been shortened for NewsLink.)
Nicholas Whiteside, a recent college graduate, Center for Financial Advancement Scholar and former Mortgage Bankers Association summer intern, is a full-circle homeownership success story.
Whiteside–who was valedictorian of his high school class–recently graduated from Fisk University, a private Historically Black university in Nashville, Tenn. While at Fisk, he applied for a Mortgage Bankers Association Government Affairs internship through MBA's partnership with the Center for Financial Advancement—a collaboration among HomeFree-USA, MBA and other industry and financial services companies that focuses on career opportunities and financial and leadership education at Historically Black Colleges and Universities.
Today, Whiteside serves as Student Director of the Center for Financial Advancement. This summer he purchased his first house, using skills he learned at Fisk, at HomeFree-USA as in intern, as a scholar in the Center for Financial Advancement and at MBA, to close the deal.
"I bought my first home in Memphis, in South Memphis in a neighborhood that is historically Black," he said, noting he returned to Memphis with the idea of showing his peers and the people around him that it's possible to want more, to do more and to grow within their environment.
"In 2017 I said during my high school valedictory speech in Memphis that too often people have the goal of making it out of Memphis," Whiteside said. "I said the goal should not always be to make it out of Memphis; it should be to make something out of Memphis. We should give back to the city that has given so much to us."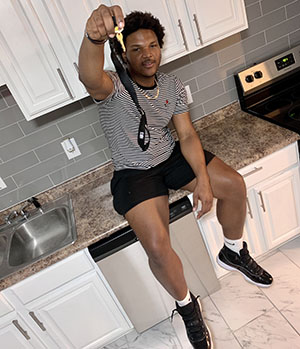 The day he closed on his new home, Whiteside thanked Exit Realty, Center for Financial Advancement partner SWBC Mortgage Corp. and HomeFree-USA for being partners that made the purchase possible. "Thank you for being on my side through my first home purchase and helping me become an example to my community to show just how easy it is to make it in Memphis," he said.
MBA recently endorsed a plan to significantly increase black homeownership by 2030. The Black Homeownership Collaborative intends to close the Black homeownership gap through its seven-point plan to increase Black homeownership by three million net new households by 2030; an increase of more than 10 percentage points in the Black homeownership rate. From there, the Black Homeownership Collaborative plans new strategies to close the racial homeownership gap completely.
MBA Senior Vice President of Affordable Housing Initiatives Steve O'Connor co-chairs the Black Homeownership Collaborative. "MBA continues to consult and partner with housing experts, consumer groups, nonprofits and civil rights organizations to identify and remove barriers to homeownership for minority households," he said, noting he believes BHC's results-driven plan will increase Black homeownership and help close the racial wealth gap.
MBA also recently established a Minority Homeownership Joint Task Force to provide industry leadership for reducing the racial homeownership gap and to promote sustainable homeownership policies for communities of color. And MBA has two advisory councils on affordable homeownership and affordable rental housing to unite voices from across the industry to make progress on the housing and rental fronts.
Click https://www.mba.org/advocacy-and-policy/convergence for more information on MBA's affordable housing initiatives.
Click https://3by30.org/? to learn more about the Black Homeownership Collaborative Seven-Point Plan.
Click https://www.mba.org/advocacy-and-policy/convergence for more information about MBA's CONVERGENCE initiative, which launched its second major pilot program July 21 in Columbus, Ohio.
"I want to let people know that this is possible," Whiteside said. "There is not a cookie-cutter model for what I'm doing. As people look into my story, they'll see that it's all about building relationships and jumping on opportunities to help yourself grow. If I can pick one thing for people to remember, it's this: be genuine about what you do for the community and for yourself and support will come naturally."