MBA Opens Doors Foundation Marks 10 Years of Resilience and Purpose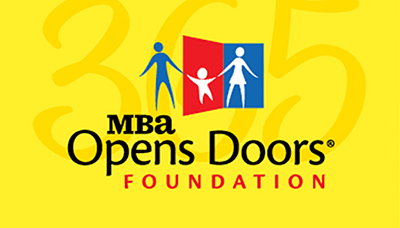 Lesley Hall lhall@mba.org
(This article appears in the MBA Annual Convention Show Guide. It has been shortened for NewsLink.)
The traditional 10-year anniversary gift is tin or aluminum, which symbolize the strength and resilience of a union. But the more modern-leaning gift for a 10th anniversary has become a diamond, to reflect durability.
The MBA Opens Doors Foundation's first decade certainly fits either interpretation.
Established in 2011 by then-MBA President and CEO David Stevens, CMB; his wife, Mary; and Daniel Arrigoni, then-President of U.S. Bank Home Mortgage, the Opens Doors Foundation's mission is to provide mortgage and rental payment assistance to families experiencing financial hardship as they deal with medical treatment for critically ill or injured children. Because MBA pays 100 percent of the Foundation's operational and administrative expenses, 100 percent of donations go directly to families in need.
Opens Doors began with $50,000 in MBA seed money, which it has grown substantially. In early 2012, it was granted 501(c)(3) status and began disbursing grants to families in need. By the end of that year, 37 grants were made to families through a relationship with Children's National Medical System in Washington, D.C. That relationship connected Opens Doors with social workers at the hospital who worked directly with families in need, facilitating an application process that allowed a small but committed Opens Doors Board of Directors to review and award the Foundation's grants.
Opens Doors' largesse, made possible by corporate and individual contributions – mostly from MBA member companies and their employees – has allowed parents to be with their children at the most important time of their lives without having to fret about meeting housing expenses. Grants of up to $2,500 are made monthly to families in need, allowing them to focus their attention where it matters: on the health and well-being of their child. The Foundation's grant program has also strengthened connections between the families, real estate finance companies and the medical community.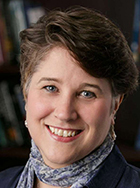 "At its core, the MBA Opens Doors Foundation is about helping families," said Deborah Dubois, the Foundation's president. "Our support for families has never wavered, nor has it ever dipped in times of crisis. Demand for our support has only increased, and we've met that demand by expanding our hospital network and building an extraordinary roster of donors from the real estate finance industry."
The Opens Doors Foundation has never stopped adapting to the needs of those it helps.
"The original mission focused on homeowners and grants for a mortgage payment," said Debra Still, CMB, president and CEO of Pulte Mortgage LLC, and chairman of the Opens Doors Foundation. "Several years into our development, we expanded our scope to acknowledge the importance of 'home,' whether owned or rented. Today 60 percent of our grants help families who are renters."
The Foundation has also grown its network of hospitals and universe of donors.

"With our donors' generous support, we have grown from one hospital partner to 13 across the country. We have been able to support families in all 50 states. Some very generous donors have made multiyear commitments to help expand the programs to hospitals near them," Still said.
This year, the Foundation will surpass $12 million in mortgage and rental payment assistance funding, according to Dubois.
Impressively, the Opens Doors Foundation has been able to keep pace with the need for housing payment assistance. "We have never had to say 'no' to an eligible family," Still said. "This is very much helped by the ongoing in-kind donation from the Mortgage Bankers Association, which pays for all administrative costs so that 100 percent of incoming donations go to our families."
Opens Doors' impact on the families it serves has been apparent since the Foundation's earliest days. Arguably, the biggest test of the Foundation's strength and resilience came during the COVID-19 pandemic, when businesses shuttered, jobs were lost and social networks were shut down. Hospitals felt the effects of the pandemic as they were forced to reallocate scarce resources, and patients and their loved ones endured restrictions and uncertainty. In addition, families that couldn't make their mortgage or rent payments were forced to face the toll of a child's medical treatment with less means of support. But throughout the pandemic, Opens Doors Foundation has soldiered on to enable families with sick children to stay in their homes.
"For our Opens Doors families, wondering how they would be able to get their child through a medical crisis is stressful enough; doing so during a pandemic would seem impossible," Still said. "Candidly, we also questioned how severely the pandemic would hurt our ability to raise much-needed funds to help the thousands of families that would be coming to us for mortgage and rental payment assistance. We knew the real estate finance community would not let them down. And we did not!"
"In 2020, when the pandemic hit and we were all trying to figure out what a new normal looked like, I was immediately concerned for our Opens Doors families – many of whom would most certainly be disproportionately impacted by the downturn in the economy," Dubois said. "I also knew, having spent more than 20 years in nonprofits, that charitable giving was about to take a huge hit and that wraparound services and programs provided by other charities would be seriously curtailed or stop altogether. The idea that families already struggling would have the added burden of caring for a critically ill or injured child in a once-in-a-lifetime global pandemic seemed inordinately cruel.
"That, along with a steady stream of major gifts and a $500,000 commitment from Leonard and Mary Ryan, allowed us to launch the MBA Opens Doors Foundation Pandemic Relief Program. The supplemental grant program doubled the number of grants we were able to provide to qualifying families. That program will sunset in December, but not before it distributes an additional $1.5 million or so in funding – on top of our projected $3.8 million in standard grant expense. That's a far cry from 2012, when $61,000 was distributed to 37 families from a single partnership with Children's National Medical System. To say we've come a long way is an understatement!"
When a program is so successful in its first decade, it may be difficult to see what possibilities lie in the future. But clearly that is not the case for MBA Opens Doors Foundation.
"I'm an optimist and a dreamer, so I see big things [ahead]," Dubois said. "I see Opens Doors as a critical part of a family's support system when their child is ill. I see the Foundation as a recognizable piece in the wellness of a community, one that values 'home' as a sanctuary and a refuge from the storm created when a child becomes ill or injured. I see Opens Doors expanding its footprint to more states and regions where the need is great and the impact is felt by families who need just a little help to get back on track. I see new programs that support families whose journey with a sick child does not end with a single grant payment, and new programs that support families whose children will not survive their illness. I am confident that all of this is possible, because I have confidence in the will and generosity of the real estate finance industry."
MBA Opens Doors Foundation is a 501(c)(3) organization, and all donations are tax-deductible. For more information, visit www.mbaopensdoors.org.