Pivoting Again: MBA ANNUAL21 Returns MBA to Live Meetings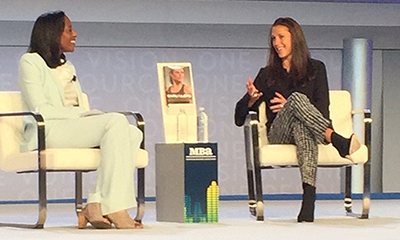 (MBA Chairman-Elect Kristy Fercho talks with Carli Lloyd at the MBA 2019 Annual Convention & Expo.)
Laura Lang lauralhaverty@gmail.com
(This article appears in the MBA Annual Convention Show Guide. It has been shortened for NewsLink.)
In 2020, we all lived a "new normal." Working from home. Learning to Zoom with our colleagues. And even attending MBA conferences virtually thanks to "MBA Live," a virtual immersive event platform that debuted at MBA's State of the Industry conference in May 2020.
After an upgrade to a dynamic, 3D platform debuting in time for the MBA 2020 Annual Convention and Expo, MBA Live supported seven online meetings, including Annual, CREF and its spring 2021 conferences. But let's face it, everyone — members, MBA staff and sponsors — were getting a little tired of not being together.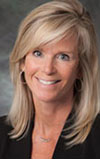 "One thing we know for certain about our industry, we like to meet in person," said Marcia Davies, Chief Operating Officer of MBA. "And as much as we were proud of how we showed up in the virtual space, our members really like being together, in person, and we're all excited to be getting back to that sense of normal."
That's right. It's time to shake hands, pat backs and smile at each other—while observing COVID protocols, of course!
MBA staff have designed an "Annual worthy" lineup of content, entertainment and educational sessions, says Elaine Howard, MBA Vice President of Meetings. "Right now, we are seeing a great turnout — and I'm talking about members, speakers, exhibitor and sponsors," she says. "The excitement spread pretty fast once planning got underway."
In fact, the hiatus from meeting in person may have boosted turnout for this year's Annual. "Some members are so excited about being back in person that they're bringing groups of people with them, some of whom have never been to an Annual," Davies said.
"We've all missed being able to meet in person and do business face-to-face," she added. "The energy is palatable when we're all together in a ballroom listening to a speaker. It's just a different experience than we could deliver in the virtual world, and we're all looking forward to having that feeling come back."
Three factors are adding to the excitement of this year's event, Davies said. (1) It's ANNUAL21, the Big Show in our industry. (2) San Diego. Who doesn't love going to San Diego? (3) We're back in person, sitting together, eating meals together, touring technology booths together, holding meetings both large and small, in person.
"Exhibitors and sponsors flooded in fast," confirms Howard. "They are there to see their customers and their clients and to support the industry. Plus, we're going to be in sunny, beautiful San Diego. So, we have a lot to be grateful for and feel positive about."
Obviously, the pandemic affected us all, and the MBA office was no exception. Their staff worked remotely for most of 2020, coming back into the office in July, just in time to finalize preparations for Annual.
Davies describes the staff as "a highly collaborative and close-knit group whose members bring talents from all over the organization (meeting planners, subject matter experts, communications team and event producers) to provide an ultimate learning environment.
"No job is too big or too small when we come together and produce our annual convention," she says. "Our staff can't wait to get back on the road, as a team, and interact with our members and sponsors to share some of those networking and educational experiences we've all come to expect from Annual."