10 Fun Things to do While in Beautiful, Sunny San Diego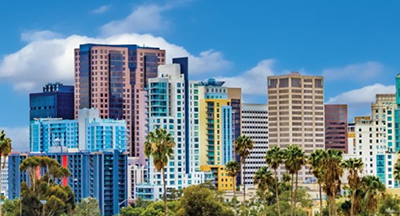 Laura Lang lauralhaverty@gmail.com
(This article appears in the MBA Annual Convention Show Guide. It has been shortened for NewsLink.)
We realize this year's Annual agenda is chock full of great content, social opportunities and dazzling entertainment. Even so, we hope you will venture out a bit to explore the sights, sounds and vibe of California's second largest city.
First, a short history overview of "America's Finest City." Long before the Europeans came to America, the Kumeyaay people inhabited this region dating back at least 12,000 years. The land was spotted by European explorer Juan Rodríguez Cabrillo in 1542. He called it "San Miguel." As more settlers arrived, the area was renamed "San Diego" for the Spanish monk San Diego de Alcalá de Henares. A fort and a mission (California's first) were established in 1769. The thriving port was initially under Spanish rule, and later Mexican. San Diego officially became part of the U.S. in 1848, and became the county seat of San Diego County when California was granted statehood in 1850.
As you venture out into the city, you'll notice street names, districts, and monuments honoring these legacies.
The good news: Many areas in San Diego are walkable from the Convention Center; or you can hop on a tram, bus or dockless scooters (use mobile apps such as Bird, Lime, Lyft and Uber for more information on scooter rentals and availability).
You can also find many tours online, including the Seal Tour, which, like the popular Duck Tours in other cities, has a tour guide drive you around on land and then wheels up to plunge right into the water for a look at bayside attractions.
So, with that in mind, here are 10 ideas to help you make the most use of your free time, starting with something literally across the street.
The Gaslamp Quarter
The Gaslamp Quarter is the unofficial epicenter of San Diego's nighttime party scene, and for many, many good reasons. It's home to more than 120 restaurants, clubs, dive bars and cocktail lounges, many featuring nightly live music. But it's also a fun area to walk through during the day, with plenty of galleries, shops and eclectic eateries to enjoy. There are also several theaters nearby for performing arts, comedy shows and symphony-type live music.
The Embarcadero
Just north of the Convention Center, you'll find the Big Bay waterfront called the Embarcadero. One "don't miss" activity is a visit to the USS Midway Museum, which invites visitors aboard America's longest-serving aircraft carrier, to enjoy 35 exhibits and tours exploring its rich 47-year history. Many of the story-telling docents are veterans who served aboard the carrier. The floating Maritime Museum of San Diego features one of the finest collections of historic ships in the world, including the Star of India, which at 150+ years old is the oldest active sailing ship.
There are harbor tours, as well as a working fishing harbor, a cruise ship terminal and plenty of hotels, restaurants and shops. You can also catch the ferry to Coronado Island or visit nearby Seaport Village, which features a collection of boutiques and eateries.
East Village/Barrio Logan
Just south of the convention center you'll find the evolving downtown area known as East Village, perhaps best known for Petco Park, home of the Padres baseball team. This revitalized warehouse district comes with a hip social scene, as well as trendy cafes, craft beer bars and high-energy vibe. Architecturally, you'll find a mix of sleek high-rises alongside former warehouses. The Central Library is a must-see, with an art gallery and reading rooms that offer views of the San Diego Bay. You'll also want to check out Quartyard plaza for its craft beer garden, food trucks and live music.
Little Italy
If you're looking for a dash of Italian culture, head toward San Diego's Little Italy district, just north of downtown. Once home to San Diego's flourishing tuna fishing industry and generations of Italian families who made their living on the sea, Little Italy is now a lively neighborhood with cozy patio cafés, international restaurants, craft brew stops and much more. Don't miss the 10,000-square-foot plaza, known as Piazza della Famiglia, a central gathering spot where you can stroll across the cobblestone street and listen to live music.
Balboa Park/San Diego Zoo
Balboa Park is three miles from the convention center. At 1,200 acres, Balboa Park is one of North America's most iconic urban parks with 17 museums, extensive gardens and the world-famous San Diego Zoo. The park was originally called "City Park," but was renamed after Spanish explorer Vasco Núñez de Balboa, in honor of the 1915 Panama-California Exposition, held that year in the park.
If you just have a bit of time, we suggest a visit to California Tower in the Museum of Man. While the iconic tower was built as part of the 1915 Exposition, it was closed to the public for more than 80 years. Now it's open; and if you're willing to climb 125 steps, you'll experience 360-degree views of the park and San Diego – a vista that spans beaches to the bays as well as from Mexico to the mountains.
La Jolla
Situated on a seven-mile stretch along the coast, La Jolla (often called the "Jewel" of America's Finest City) will give you a good mix of beach and city life. The view at La Jolla cove is breathtaking — and be sure to take the stairs down to the beach to see the seals and sea lions. There's also a "cave," a former bootlegger's tunnel, you can access through one of the shops. To see more caves, you can rent a kayak and go on a guided 90-minute tour.
Mt. Soledad National Veterans Memorial
Technically in La Jolla, the Mt. Soledad National Veterans Memorial is one of the most visited spots in San Diego County. The memorial is at the top of a neighborhood hill. The gates are open daily from 7 am to 10 pm and there is no fee to enter. There are 11 walls that make up the memorial and if you climb up the stairs to the cross you'll get an iconic view of the city, encompassing the Pacific Ocean to the west, the coastal cities to the north, the mountains to the east and Downtown San Diego and beyond to the south. Parking can be tough but there's a large lot down this hill, just a five-minute walk away.
Coronado Island/Hotel Del
That beautiful bridge you may see from your hotel spanning the bay just south of the convention center does indeed lead somewhere — and it's pretty amazing.
Coronado means "the crowned one" in Spanish and the island is sometimes referred to as "the crowned city." Orange Avenue, Coronado's main artery, is lined with shops, restaurants, galleries, theaters and the Coronado Museum of History & Art. At the other end of the island, Coronado's Ferry Landing offers a collection of more than 20 shops, art galleries and restaurants boasting stunning views of San Diego's downtown skyline.
Wine Tastings and Tours
You may equate "California wine" with Napa and Sonoma valleys — and they're adept at what they do. But San Diego has several renowned wineries, out in the hills and many in more urban settings. There are several ways of getting there, by bus or train, to explore depending on how much time you want to spend. (Tripadvisor has a pretty good rundown on these.)
Point Loma
"Loma" means hill in Spanish. This peninsula is where Juan Rodríguez Cabrillo landed to "discover" San Diego. The Cabrillo National Monument tells the story of the land's discovery by Europeans. If you like hiking, there is a two-mile Bayside Trail with spectacular views of San Diego Bay.
The tidepool area offers a unique opportunity to view near shore creatures. And the old lighthouse, built in 1855, was one of the first built on the west coast (there are only eight of them!) If you don't have a place picked out for lunch or dinner, visit Point Loma Seafoods.
We hope you'll enjoy your stay in America's Finest City.