Small-Cap Commercial Real Estate Firing on All Cylinders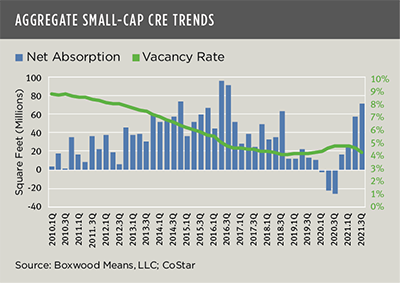 The economic rebound has boosted small businesses, giving small-cap commercial real estate leasing and investment markets a jolt, reported Boxwood Means LLC, Stamford, Conn.
"Overall space demand is surging," said Boxwood Means Principal and Co-Founder Randy Fuchs. "After negative results during three quarters of last year, net absorption across the industrial, office and retail sectors proved positive for a fourth consecutive quarter during the third quarter."
Fuchs said demand for buildings below 50,000 square feet soared 27 percent from the second quarter to 71.6 million square feet during Q3. "This was the highest quarterly volume in five years and underscores the market's transformation from recovery to flat-out expansion mode," he said.
Boxwood's third-quarter Small-Cap Commercial Real Estate Trends report said small-cap industrial demand "is without peer and booming" as retailers and logistic suppliers strive to move warehouse space closer to customers to further support e-commerce. As a result, third-quarter industrial absorption increased by 29.4 million net square feet–the highest quarterly expansion in nearly seven years–triggering a 30 basis point drop in the national average vacancy rate to a record low 3.0 percent.
The office sector offered a positive surprise, Fuchs said. Driven by direct leases with landlords as well as sublet deals, small-cap CRE office demand soared 95.3 percent to 15.5 million square feet during the quarter as small firms voted heavily in favor of their employees' return to the office at least part-time. He called the office absorption figure the best seen in five years.
"The small-cap retail sector is a paradox," Fuchs said. "Despite the growing shift from traditional shopping to ordering online, retail space at small neighborhood and strip centers, street retail and general retail stores that serve consumers' everyday needs remains in high demand." Net occupancy rose nearly 20 percent, slashing the national vacancy rate to a pre-pandemic level 4.0 percent.
"This stellar small-cap retail sector performance, which flies in the face of public debate ad nauseum about the existential threat to retail posed by online shopping, conjures up Rodney Dangerfield's famous line about getting no respect," Fuchs noted.
On the multifamily side, occupancies at small and affordable rental housing properties with between 5 and 40 units rose again to a 96.1 percent national average, the highest level since at least 2000. "These robust figures underscore the persistently high demand for affordable rental housing that has cascaded into the highly energized single-family rental housing market," Fuchs said.
Boxwood Means reported small-cap commercial and multifamily sales volume reached $153 billion through July, 36 percent more than the same period last year and six percent ahead of 2019's robust pace.
"Investors moved off the sidelines and into the fray as occupier fundamentals tightened further and small-balance capital providers continued to be highly accommodative," the report said.