November Consumer Confidence Declines; Outlook Mixed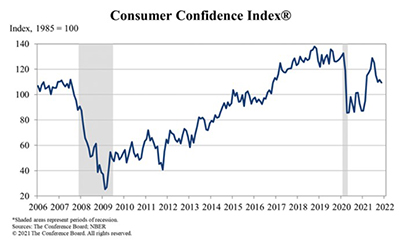 The Conference Board, New York, said its Consumer Confidence Index decreased in November, following an increase in October. The Index now stands at 109.5, down from 111.6 in October.
The Present Situation Index—based on consumers' assessment of current business and labor market conditions—fell to 142.5 from 145.5 last month. The Expectations Index—based on consumers' short-term outlook for income, business, and labor market conditions—fell to 87.6 from 89.0.
"Expectations about short-term growth prospects ticked up, but job and income prospects ticked down. Concerns about rising prices—and, to a lesser degree, the Delta variant—were the primary drivers of the slight decline in confidence," said Lynn Franco, Senior Director of Economic Indicators with The Conference Board. "Meanwhile, the proportion of consumers planning to purchase homes, automobiles and major appliances over the next six months decreased.
Franco said the Board expects a good holiday season for retailers, and confidence levels suggest the economic expansion will continue into early 2022. "However, both confidence and spending will likely face headwinds from rising prices and a potential resurgence of COVID-19 in the coming months," she said.
"While there are plenty of shortages throughout the economy, there is no scarcity when it comes to factors that could be weighing on confidence," said Tim Quinlan, Senior Economist with Wells Fargo Economics, Charlotte, N.C. "Inflation is as high as it has been in a generation, financial markets remain choppy and the usual stress that comes with the holiday season is complicated by an ever-changing virus and evolving guidance about how to best contain it."
The report said consumers' appraisal of current business conditions was less favorable in November. Seventeen percent of consumers said business conditions are "good," down from 18.3%; 29% of consumers said business conditions are "bad," up from 25.7%, while consumers' assessment of the labor market was moderately more favorable: 58% of consumers said jobs are "plentiful," up from 54.8%. Conversely, 11.1% of consumers said jobs are "hard to get," virtually unchanged from 11%.
Consumers' optimism about the short-term business conditions outlook increased in November, with 24.1% of consumers expect business conditions will improve, up from 22.7%; 20.7% expect business conditions to worsen, down from 21.9%. Consumers were less optimistic about the short-term labor market outlook, with 22.1% of consumers expect more jobs to be available in the months ahead, down from 24.4%; 18.9% anticipate fewer jobs, up slightly from 18.7%.
Consumers were less positive about their short-term financial prospects, with 17.9% of consumers expect their incomes to increase, down from 18.4%; 12% expect their incomes will decrease, up from 11.2%.
Quinlan said the Omicron variant of the coronavirus leaves things unsettled. "We do know that when COVID cases rise confidence has a tendency to drop," he said. "The Delta variant made an impact on confidence and consumer spending in 2021. Until health officials have gathered details on this latest mutation, we cannot know for sure what effect it will have on confidence and spending"