October Employment Bounces Back as Delta Variant Fades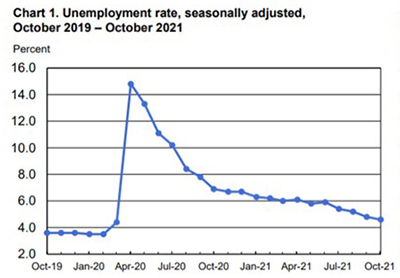 Payroll employment roared back in October after tepid growth the previous two months as the U.S. began to move on from the fading coronavirus Delta variant, the Bureau of Labor Statistics reported Friday.
The report said total nonfarm payroll employment rose by 531,000 in October, while the unemployment rate edged down by 0.2 percentage point to 4.6 percent. BLS reported widespread job growth, with notable gains in leisure and hospitality, in professional and business services, in manufacturing and in transportation and warehousing.
The unemployment rate and the number of unemployed persons, at 7.4 million, continued to trend down. Both measures are down considerably from their highs at the end of the February-April 2020 recession. However, they remain above their levels prior to the coronavirus (COVID-19) pandemic (3.5 percent and 5.7 million, respectively, in February 2020).
BLS revised up total nonfarm payroll employment for August by 117,000, from +366,000 to +483,000, and revised up September numbers by 118,000, from +194,000 to +312,000. With these revisions, employment in August and September combined is 235,000 higher than previously reported.
BLS said the long-term unemployed (those jobless for 27 weeks or more) decreased by 357,000 to 2.3 million but is 1.2 million higher than in February 2020. The labor force participation rate was unchanged at 61.6 percent in October and has remained within a narrow range of 61.4 percent to 61.7 percent since June 2020. The participation rate is 1.7 percentage points lower than in February 2020. The employment-population ratio, at 58.8 percent, was little changed over the month. This measure is up from its low of 51.3 percent in April 2020 but remains below the figure of 61.1 percent in February 2020.
"The number of unemployed individuals has now dropped by 3.6 million since October 2020, with both the short-term and long-term unemployment rates falling this past month," said Mike Fratantoni, Chief Economist with the Mortgage Bankers Association. "With employers struggling to fill millions of open positions, wages are rising, with average hourly earnings up almost 5% compared to last year. Strong wage growth should be effective in continuing to bring individuals who had stopped looking for work back into the labor force, but the participation rate remains below pre-pandemic levels."
Fratantoni said the pandemic's impact on the economy is waning. "Only 11.6% of workers teleworked in October due to the pandemic, a drop from 13.2% in September. This is positive news for the office market," he said. "Construction employment increased by 44,000, led by growth in contractor employment. The housing market is still woefully short of inventory, so growth in this sector is also good news."
"As it stands now, approximately 19% of the jobs lost in the pandemic have not been regained," said Odeta Kushi, Deputy Chief Economist with First American Financial Corp., Santa Ana, Calif. "If monthly gains continue at the October pace, we could return to the pre-COVID employment peak by June 2022."
Kushi noted, however, the labor force participation rate is important because a labor market with low unemployment and low participation means many Americans are not participating in the economy or contributing to its growth. "A healthy labor market consists of a low unemployment rate and a high participation rate," she said.
Sarah House, Senior Economist with Wells Fargo Economics, Charlotte, N.C., said October's increase in employment hinted that many of the recent headwinds to hiring, such as the Delta variant, parts shortages and the availability of labor itself, are beginning to ease.
"Employers continue to raise pay at strong rate in order to attract and retain workers, but the increases appear to be pulling workers back into the jobs market," House said. "Despite the overall participation rate remaining unchanged, the total size of the labor force inched up, with a notable increase in prime age workers and those under the age of 25. We expect hiring to remain robust over the coming months, as workers' constraints ease and financial needs rise."
House said job growth could still be held back by labor availability in the coming months, but workers should continue to trickle back into the hiring pool. "More discernable improvement should come next spring," she said.
BLS said average hourly earnings for all employees on private nonfarm payrolls increased by 11 cents to $30.96, following large increases in the prior six months. Over the past 12 months, average hourly earnings have increased by 4.9 percent. In October, average hourly earnings of private-sector production and nonsupervisory employees rose by 10 cents to $26.26.
"This robust wage growth is a further signal that firms are looking to hire," said Doug Duncan, Chief Economist with Fannie Mae, Washington, D.C.
The report said the average workweek for all employees on private nonfarm payrolls decreased by 0.1 hour to 34.7 hours. In manufacturing, the average workweek edged down by 0.1 hour to 40.3 hours, andovertime edged down by 0.1 hour to 3.2 hours. The average workweek for production and nonsupervisory employees on private nonfarm payrolls decreased by 0.1 hour to 34.1 hours.