Welcome News for the Retail Sector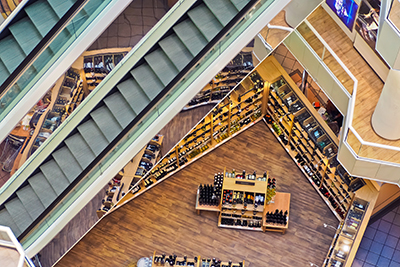 The retail sector's solid performance in recent quarters has been a welcome surprise, said Moody's Analytics, New York.
"For the second straight quarter, retail sector performance was largely positive," said Thomas LaSalvia, Senior Economist with Moody's Analytics. He noted national asking rents grew 0.1 percent and owners granted fewer concessions, allowing effective rent to increase 0.3 percent in the quarter. The vacancy rate also improved, falling 10 basis points to finish the quarter at 10.4 percent, just 20 basis points above its 2019 level.
Moody's third-quarter Retail First Glance report said a year ago, 71 of 80 metros showed quarterly effective rent declines, but that number has now completely flipped and just nine metros saw rent declines.
LaSalvia said real estate stress due to the pandemic never materialized in the sector in a systemic way. "Although, as the recent pull-back in consumer sentiment confirms, we are not yet out of the woods," he said. "This is especially true for the weakest assets in metros and regions where population growth is suffering. We still expect there will be a few headaches out there for owners and investors in these areas and these struggles will hold down national level metrics over the next few quarters."
The sector's two largest components, neighborhood/community shopping centers and regional malls, diverged slightly, the report said. Net absorption was "surprisingly strong" for neighborhood/community centers at 4.4 million square feet, the highest quarterly figure since 2016. "Further, total occupied stock has now surpassed its 2020 Q1 level, showing both the recent growth of the sector as well as the lack of pandemic related decline," Moody's said.
As for regional malls, the report said their performance seems to have bottomed out during the second quarter and may now be turning a corner. Mall vacancies decreased 10 basis points, bringing the vacancy rate slightly down from its 11.5 percent cyclical high. "This was the first vacancy rate drop for the beleaguered sector in two years," the report said. Asking rents grew by a solid 0.2 percent for the second consecutive quarter but rent levels are still down a bit over 2 percent for regional malls since the pandemic began.
"Moving forward, consumer sentiment has turned sour, and we are still concerned about the problems a potential cold weather spike in COVID infections would have for malls," LaSalvia said. "With this said, other indicators point to a strong holiday spending season. If this is the case, it would certainly help drive mall traffic, especially in well-kept properties with a large and diverse set of tenants."
With two quarters of positive results, Moody's is gain confidence that the worst is over for retail, LaSalvia said. "Does this mean we are bullish on the sector? Probably not, but without any significant health or economic setbacks, it is likely that any remaining stress will be reserved to specific markets and properties," he said.