Seven Takeaways from MBA's Affordable Rental Housing Summit
Katelyn Harris kharris@mba.org; Andrew Foster afoster@mba.org.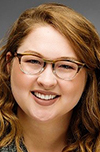 Katelynn Harris is Senior Program and Policy Specialist of MBA's Affordable Housing Initiative team. She staffs and manages MBA's Affordable Rental Housing Advisory Council and Affordable Homeownership Advisory Council. She works the local, state, and national partners of MBA's place-based initiative, CONVERGENCE, to advance minority homeownership through innovative solutions. Andrew Foster is Associate Vice President in MBA's Commercial/Multifamily Group. He is a former Analyst with S&P Global Ratings and Fitch Ratings.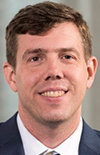 Significant affordability challenges exist across the country and the issue is a top priority for the Biden Administration. In April, the Mortgage Bankers Association virtually convened business and policy executives for a series of conversations on the 2021 affordable rental housing landscape. Here are some key takeaways from that event.
Speakers:
Panel #1 Business landscape
Moderator: Shekar Narasimhan, Managing Partner, Beekman Advisors
Speakers: Daryl Carter, Founder, Chairman, and CEO, Avanath Capital Management; Lori Little, CEO, National Affordable Housing Trust; Michael Berman, CMB, President and CEO, M&T Realty Capital; Angela Kelcher, Senior Director, Multifamily Affordable Housing, Fannie Mae.
Panel #2 Policy landscape
Moderator: Ali Solis, Principal, S3-Solis Strategic Solutions
Speakers: Marion McFadden, Senior Vice President, Public Policy and Senior Advisor of Resilience, Enterprise; Emily Cadik, Executive Director, Affordable Housing Tax Credit Coalition; Margaret Salazar, Executive Director, Oregon Housing and Community Services.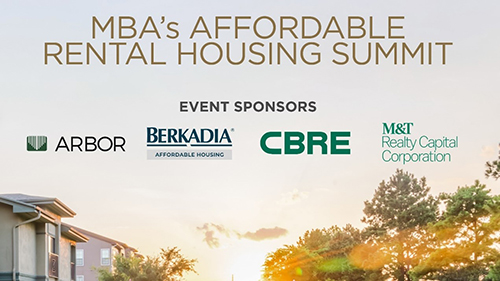 A directory with the bio of each individual speaker is available here.
Some backdrop and context of some of the policy discussions happening in Washington the week of the Summit is highlighted below:
On Wednesday, April 14, the House Financial Services Committee held a hearing laying the groundwork for parts of President Joe Biden's $2 trillion infrastructure proposal known as The American Jobs Plan. The White House has provided a general outline of what it hopes will be its next major legislative initiative, which includes plans to "build, preserve, and retrofit more than two million homes and commercial buildings, modernize our nation's schools and childcare facilities, and upgrade veterans' hospitals and federal buildings." The consideration that infrastructure includes housing is original to this legislative package. But to what extent and what revenues must be raised to pay for a massive national housing overhaul are yet to be determined. Multiple committees will hold additional hearings and markups that will ultimately come together and serve as the text for The American Jobs Plan.
Takeaways
The affordability crisis is significant. In general, panelists agreed that it was a significant challenge pre-COVID, and the dynamics have not improved. What has changed is that there seems to be more widespread agreement and political will with respect to the need to address the issues although the details of what and how will require significant debate.
An area of increased focus for the Low-Income Housing Tax Credit program is preservation. It can often be easier to pencil out the best new construction projects whereas the economics for properties with expiring land use restrictions can be more challenging and require more creativity in sourcing financing. Some 500,000 affordable units have expirations forthcoming over the next few years, making this an important part of the affordable supply conversation.
One panelist noted working with various community partners such as small businesses to help create jobs is a significant output for their business alongside providing affordable housing with debt and equity capital solutions. This may be as contractors, tenants or PPP loan recipients but is an important competency and part of the culture. A community development project example was provided by M&T who recently provided capital for a mixed-use development in the Covington area of Boston. Read more here about this project includes affordable/market rate apartments as well as office product.
While the policy panelists expressed some support for the significant investments in affordable housing in the Infrastructure package, it was noted that bipartisan support is extremely important for what was described as a once in generation opportunity to invest resources in affordable housing. Short term gains may be beneficial but not as effective over the long term if they are changes that are not able to stick.
Panelists shared perspective on the recently reintroduced legislation, The Affordable Housing Credit Improvement Act, which could result in the production of more than two million additional affordable homes over the next 10 years. If passed, the bill would increase the housing credit allocations by 50 percent over current levels and accelerate the implementation of the allocation increase from the previous five years to two2 years, considering the increased and urgent need for affordable housing that existed prior to the COVID-19 pandemic. According to Novogradac and Co., the legislation would also support the creation of nearly three million jobs, generate more than $346 billion in wages and business income and approximately $120 billion in additional tax revenue.
Panelists discussed substantial opportunities to partner creatively with various stakeholders to provide additional tenant services. Both policy professionals and landlord participant outlined the potential to partner on creative and innovative programs. The apartment owner describing that generally targeted programs investing in tenants by landlords can have positive impact on returns through increased occupancy/lower turnover. These initiatives can be good for investor returns but also right thing to do which is strong business proposition.
Disbursement of recently allocated rental assistance funds was a topic of discussion—with a great deal of pressure to get needed funds into the hands of those who need quickly and efficiently. A process that is at once challenging and can place strains on resources available to handle the rollout. There were some industry questions around the timing of eviction moratoria and the ability to get funds and how these various activities impact one another or may create confusion. Providing broadband access was mentioned as a significant opportunity to effectively use emergency rental assistance funds. Panelists mentioned an overall tone or approach is to not be using funds as band aid but rather to figure out how to ensure tenants are able to stay in their communities sustainably.
This event was orchestrated by MBA's Affordable Rental Housing Advisory Council. The Council was created to help develop stronger and more effective affordable housing partnerships in both the policy and business arenas. The objective of the partnerships is to promote more sustainable, affordable rental housing for underserved people and communities, especially minorities and low-to-moderate-income Americans.
The Council along with the Affordable Homeownership Advisory Council supports MBA's Affordable Housing Initiative in the form of advice, feedback, and ideas related to where the association should focus its resources to be most impactful, including new business approaches, data and research, public policy, and strategic partnerships. MBA welcomes ideas and input from stakeholders interested in working to identify solutions to the nation's affordable housing crisis.