One-Third of Millennial Homebuyers Using Extra Savings from Pandemic for Down Payment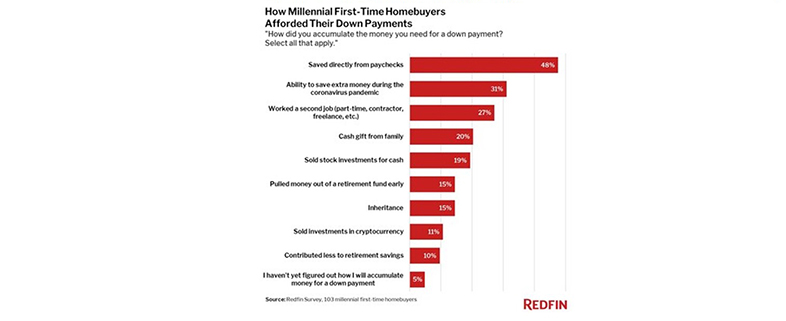 For nearly one-third (31%) of millennial first-time homebuyers, the ability to save extra money during the coronavirus pandemic helped them accumulate the money needed for a down payment, said Redfin, Seattle.
The survey of more than 1,500 Americans who plan to buy or sell a home in the next 12 months reported 48 percent of millennial first-time buyers saved money directly from paychecks for their down payment on a home, followed by the ability to save extra money during the coronavirus pandemic (31%), working a second job (27%), cash gifts from family (20%) and selling stock investments (19%).
Redfin also noted the "pandemic effect:" One-third of all homebuyers are buying sooner than expected; another one-third are buying later Thirty-seven percent of all homebuyer respondents (regardless of age) are purchasing a home later than originally planned because of the pandemic and 32% are buying a home sooner than originally planned.
"Roughly half of my clients are people moving to the Central Valley from the Bay Area because they want to live in a bigger home for less money, and a lot of them only need to commute into the city once or twice a week, if that," said Steven Majourau, a Redfin agent in Stockton, Calif. "They're selling a large condo or townhouse for close to $1 million–or a small single-family home for more than $1 million–in San Francisco, San Jose or the East Bay and buying a large house here in the Central Valley for around $700,000."
The survey also noted although homebuyers are searching for space, they're also worried about prices going up. Rising home prices were the top concern among house hunters, with 27% of homebuyer respondents who plan to buy in the next year citing it as a worry. It's followed by concerns about being able to find a home they love at a price they can afford, with 25% of respondents selecting that option. Home prices were up 22% year over year in April, reaching a record high of $357,000 (the year-over-year increase is somewhat inflated because price growth was low last April as pandemic-driven lockdowns nearly ground the housing market to a halt).
Homebuyers are also concerned about other financial issues, with roughly 20% of respondents selecting each of the following concerns: Mortgage rates going up, ability to secure a loan, not having enough money for a down payment and concerns about the economy.
"After months of home prices rising dramatically, buyers are well aware that homes are more expensive now than they were a year ago or six months ago," said Redfin Chief Economist Daryl Fairweather. "Even though people are prioritizing things like space and privacy in their home search, rising prices mean a lot of buyers will need to make compromises to avoid going beyond their financial comfort zone. A buyer who was hoping for a single-family home may need to settle for a condo, and someone who was hoping for a separate home office may have to get creative and carve out part of the living room for a desk."
The report can be accessed at https://www.redfin.com/news/millennial-homebuyers-down-payment-preferences.
In a separate report, Redfin said nationwide, 30.6% of Redfin.com users looked to move to a different metro area in April, down slightly from 31.5% in the first quarter but up from 26% at the same time last year.
Fairweather said the small decline in the share of homebuyers looking to relocate could be an early indication that pandemic-driven migration is starting to slow down as vaccines roll out and more Americans return to the office.
"The dust has not settled, as there are still a lot of unknowns about what portion of workers will return to the office and how many will pick up and move because they finally have clarity from their employers about whether or how often they can work remotely," Fairweather said. "Once people know more about their future, we could see another big wave of migration as people settle into the new normal."
Phoenix, Las Vegas, Sacramento, Austin and Atlanta were the most popular destinations for Redfin.com users looking to move to a different area in April. New York, San Francisco, Los Angeles, Washington, D.C. and Denver top the list of places Redfin.com users looked to leave in April.
The report can be accessed at https://www.redfin.com/news/april-2021-housing-migration-trends.