MBA Opens Doors Foundation Announces Alliance with The Children's Hospital at Saint Francis
The MBA Opens Doors Foundation announced a new alliance with The Children's Hospital at Saint Francis in Tulsa, Okla. The alliance is the Foundation's first in Oklahoma and brings the number of children's hospitals in its network to 13.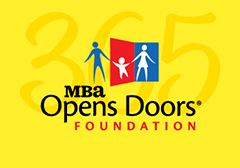 Saint Francis is the only children's hospital in Eastern Oklahoma, and has 162 in-patient beds and more than 63,500 annual outpatients visits. Nearly 13 percent of its patients identify as Native American/Native Alaskan descent, potentially allowing Opens Doors to serve an underserved population.   
"The majority of the families we see at Saint Francis are either on Medicaid or must self-pay for hospital treatment," said Kristi Baker, Executive Director of Women's and Children's Services at Saint Francis Health System. "Support from the MBA Opens Doors Foundation will help alleviate a family's stress when managing significant medical expenses, while also trying to keep their home secure. We are deeply appreciative of the opportunity to join their hospital network and for helping our patient families access this very important program."  
The Opens Doors-Saint Francis alliance was facilitated by MBA member Steven Plaisance. The Foundation's nationwide Home Grant Program is funded through gifts from mortgage industry companies and personal contributions throughout the country.
"As chairman of the Foundation's Board of Directors, it's a special honor to welcome a thirteenth children's hospital partner to our network," said Debra W. Still, CMB, President and CEO of Pulte Financial Services. "Helping families at The Children's Hospital at Saint Francis extends our reach both geographically and demographically. We appreciate the charitable support and generosity of MBA members in Oklahoma and all across the country in helping us continue to expand our home and rental grant program."
Since 2012, Opens Doors has helped nearly 6,800 families with critically ill or injured children stay in their homes while their child was in treatment. Families from 49 states and the District of Columbia have received more than $9.7M in housing assistance. Grants up to $2,500 are made monthly to qualified families.
"Bringing Saint Francis into our network means that we are well positioned to help even more families during these challenging times," said Deborah Dubois, president of the MBA Opens Doors Foundation. "The pandemic has been hard on families, but there has been a silver-lining. Support from the real estate finance industry for our Home Grant Program has been not just consistent, but tremendously heartwarming."
For more information on Opens Doors' mission, click here.