Dealmaker: Enterprise Housing Credit Investments Closes $29M in Tax Credit Investments
Enterprise Housing Credit Investments, Columbia, Md., announced $29 million in tax credit investments in two multifamily properties.
In Denver, EHCI closed a $18 million Low-Income Housing Tax Credit investment in partnership with Denver Health and Hospital Authority and the Denver Housing Authority to create affordable apartments connected to health services that support people transitioning out of Denver Health medical facilities.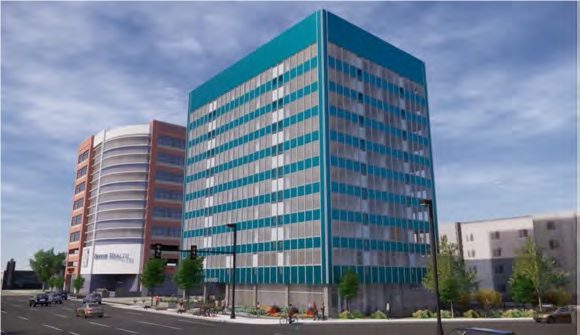 The adaptive-reuse of 655 Broadway will transform the 10-story administrative office building on Denver Health's campus into 110 furnished studio and one-bedroom apartments, 96 of which will be set aside for low-income seniors. The remaining 14 apartments will serve as transitional housing for patients who require additional health care and housing support after being discharged from the hospital.
Hospitals cannot discharge patients who have nowhere safe to go. As a result, patients sometimes occupy hospital beds for weeks or months after they require hospitalization as they recover, causing financial strain and a lack of bed availability. The homes at 655 Broadway will create long-term affordable housing for these patients. All apartments are scheduled to be move-in ready by April 2022.
In another transaction, Enterprise Housing Credit Investments and Sugar Creek Capital, St. Louis, Mo., closed an $11 million investment in The Refinery Apartments, the first affordable housing property to close in South Carolina using the state's Low-Income Housing Tax Credit program.
Located in Abbeville near the Georgia border, The Refinery Apartments' two three-story buildings will house 60 new apartments
"The federal Low-Income Housing Tax Credit has helped to fund nearly all affordable housing created in the United States since it was signed into law in 1986," said Enterprise Housing Credit Investments President Scott Hoekman. "By enacting a state version of the Housing Credit, South Carolina will significantly increase the number of affordable homes developers are able to create each year."
The Refinery will include 51 affordable and nine market-rate units on the site of a demolished textile mill. The affordable apartments will be reserved for tenants earning up to 60 percent of the area median income and rents will range from $425 for a one-bedroom to $630 for a three-bedroom.
Because the site was previously a textile mill, The Refinery will also use South Carolina's Textiles Communities Revitalization Credit. Sugar Creek Capital will provide the state tax credit equity and the textile mill equity and EHCI will provide the federal Housing Credit equity. Key Bank, Cleveland, is providing $7.3 million in construction financing and a $550,000 long-term mortgage loan.  
NHT Communities, Washington, D.C., will serve as the project sponsor and developer. Delivery is scheduled for early 2022.