Matt Hydrew: Incubate, not Originate!
Matt Hydrew is Vice President of Sales and Client Services with CreditXpert, Baltimore. He has worked for more than 16 years to digitize the mortgage process with supporting technologies. He joined the CreditXpert leadership team in 2020 and now leads efforts to maximize client success and ensure even more lenders can help more borrowers and increase profitability with our software.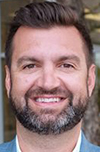 Mortgage lending starts with origination. This is why lenders invest time and money generating leads.
The problem is those leads do not automatically make it to the closing table. In fact, up to 20% do not even become applicants. Others are lost to competitors or do not qualify due to credit or debt. Leads are expensive. Lost leads are even more costly.
There is a better way: think incubate, not originate. It is about making the most out of each lead, not just adding more leads into the funnel. Incubation takes time. It starts with making sure borrowers are credit-ready and remain credit-ready until they reach the closing table. It starts at the top of the funnel and it keeps borrowers in your pipeline. That's the benefit.
There are three reasons lenders should shift to incubation:
Not No, Just Not Now. Sometimes the only answer and the right answer is no.

Denial letters are a fact of life. Yet, some denial letter recipients will become homeowners. Will they become your mortgage holder? That depends. Deliver a path to homeownership with the 'no' message. Meet them at the closing table when they are ready.

A key component of the 'no' conversation is opening the window on the borrower's credit profile so they learn how to become credit-ready. The mortgage credit score – all credit scores for that matter – are opaque. Borrowers understand little about credit scores. They understand even less about improving them. Some lenders suggest ways to improve credit or send prospects to credit repair or credit counseling when credit improvement is necessary. Then lenders wait (and hope) for those potential borrowers to return.

Why wait? Why put your prospects in someone else's hands? Lenders have the power to help borrowers understand their credit score using data- and analytics-based plans that describe, in detail, the steps they can take to improve their credit profile. Importantly, this is different than credit repair, which is dispute-based; this approach is data- and action-based. Lenders can then regularly follow up with prospects to see how they are doing, which provides consumer support and meaningful reason to follow-up and to stay in touch. Waiting is passive. Incubating these prospects is tangible action that closes loans.

As many as 20% of early leads fall-out. We know from Home Mortgage Disclosure Act Data (HMDA) data that credit is the number one or two reason applicants fall-out. We hear from lenders that the same reason and percentage applies to early leads. Taking a little more time using a credit-ready approach could convert as many as 30% of these lost borrowers into closed loans and into happy homeowners.

Housing Supply. People want to buy homes. Homes are in short supply.
Every lender wants to close loans quickly. Pipeline velocity, a close cousin of pipeline pull-through, is likely to elongate due to the supply and demand imbalance, as described below. The old sales adage 'time kills all deals' is as true in the mortgage business as it is in every sales endeavor.
With incubation, you keep potential borrowers that are still in the home search credit-ready until they find their dream home. This is an intensely meaningful reason for regular follow-up, and far more personal than 'just checking in' or 'have you seen rates today?' that keeps you in the conversation.
How challenging is the supply and demand imbalance? Pretty challenging. Nationwide housing inventory declined almost 43% year-over-year, according to the National Association of Realtors.

On the other side of low housing supply, demographics and the pandemic are driving strong demand.

The most recent population estimates from the U.S. Census Bureau point to strong growth in the number of 30- to 44-year-olds, the age most likely to purchase homes. In fact, adults in this age group accounted for half the adult population in 2018 and 2019, according to the 2020 State of the Nation's Housing Report from the Joint Center for Housing Study. Household growth is accelerating too, a factor that drives the demand for homes.

Covid-19 has had an interesting impact on home sales. More people are working from home. More students are learning remotely. Renters want more space for their families, and greater distance from their neighbors. Current homeowners want more space, too, with everyone at home. The 'more space' trends are likely to stay with us post-pandemic. People and employers are realizing remote work and productivity can be a good match.
Builders are working hard to increase supply. Spotty availability of construction materials may temper their ability to build as much as they would like, or as much as potential homeowners would like to consume. Potential borrowers will, unabatedly, drive demand. Keeping potential borrowers credit-ready gets them to the closing table as soon as they find their home.
Incubation versus Origination
These are three strong reasons for standing origination on its head in favor of incubation. Some borrowers will close in 30 days. Others will take longer. Incubate and close them all.
The long-view becomes important as peak volumes subside. Today's technologies make it relatively easy to figure out how long it might take to get a borrower into their home. This is why a two-pipeline approach makes sense. The first is the 'at-bat' pipeline. These borrowers will close fast. Why incubate these fast-trackers? Relationships.
The second is the 'on-deck' pipeline. These borrowers will take more time. Incubation makes inherent sense for on-deck borrowers. Getting them credit-ready and keeping them credit-ready is the very definition of incubation. These borrowers will eventually close. Helping them over the length of time it will take means they close with you.
The mortgage market will down-shift this year from volume highs in 2020. At the same time, shifting from originating to incubating is the new competitive differentiator. It recognizes that every borrower matters and ensures every loan counts. We will be talking more about this throughout 2021. In the meantime, please get in touch with your ideas on getting more borrowers to the closing table. I can be reached at mhydrew@creditxpert.com.
(Views expressed in this article do not necessarily reflect policy of the Mortgage Bankers Association, nor do they connote an MBA endorsement of a specific company, product or service. MBA NewsLink welcomes your submissions. Inquiries can be sent to Mike Sorohan, editor, at msorohan@mba.org; or Michael Tucker, editorial manager, at mtucker@mba.org.)