Most Senior CMBS Found 'Resilient' Under Stress Test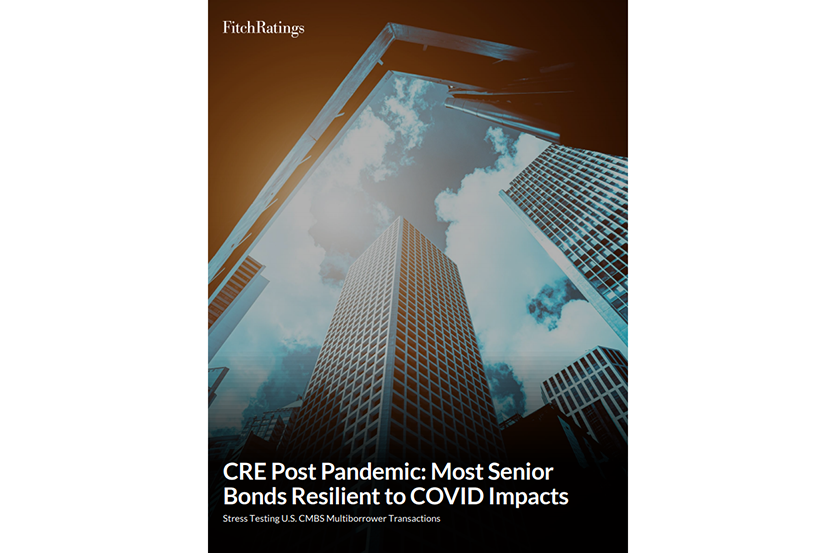 Image courtesy of Fitch Ratings
Most high investment-grade rated commercial mortgage-backed securities multi-borrower bonds can withstand downgrades under a new hypothetical stress test, Fitch Ratings reported last week.
In its report, CRE Post Pandemic: Most Senior Bonds Resilient to COVID Impacts, Fitch reduced property-level net operating income for a sample of 2013 to 2018-vintage multi-borrower transactions to measure the effect a theoretical new office stress might have on top of the coronavirus stresses it already applies on lodging, retail and multifamily collateral.
The new scenario assumed an additional 15 to 30 percent valuation decline from current estimated market levels based on property type-specific stressed net operating income declines and a further 15 to 40 percent decline from applying higher capitalization rates than rates that currently prevail.
Fitch found the lodging, retail and office sectors face the most severe "headwinds" under the new scenario. "Post-coronavirus pandemic implications for leisure and corporate travel, brick-and-mortar retail and the shift to a hybrid working environment are emerging on different cadences, with negative repercussions for the lodging, retail and office segments, respectively," the report said. "These sectors are most vulnerable to potential secular shifts regarding occupier behavior that could result in long-term reductions in property cash flows and valuations."
Multifamily properties have been the most resilient throughout the pandemic downturn and will likely remain so, but assets in large coastal cities could face pressure given the number of people who have already moved elsewhere and the uncertain trajectory for these properties' cash flows to return to pre-pandemic levels, the report said.
Fitch said the stress scenario resulted in hypothetical losses to tranches rated in the 'BBBsf' category and below. "Approximately one-third of 'BBBsf' bonds would experience losses or be downgraded to below 'B-sf'," the report said. But most super-senior 'AAAsf' ratings–86 percent–would remain unchanged under the stress scenario, with the balance migrating to the 'Asf' category at worst. Less than 8 percent of bonds currently rated investment-grade would be downgraded to below investment-grade, with 3.9 percent of such bonds incurring losses.