RE/MAX: June Housing 'Step Toward a More Balanced Market'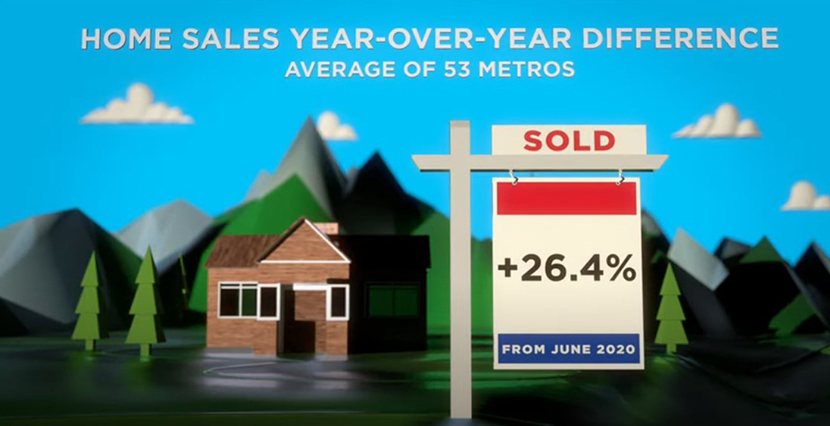 RE/MAX, Denver, said home sales soared in June amid growing housing inventories.
The company's monthly National Housing Report said June, typically the biggest month of the year for home sales, saw sales jump by 14.2% over a strong May and top all other months in the 13-year history of the report. The median sales price of $336,000 eclipsed the previous report record of $320,000 – set in April and tied in May– by 4.9%.
The report also noted inventories grew for the first time in 15 months, increasing 1.9% over May.
RE/MAX President Nick Bailey said the fact that home sales are up and inventory is increasing at the same time indicates more sellers are willing to list their homes–and buyers are lining up at the door.
"June saw a unique case of supply and demand rising in unison, thanks to an uptick in sellers listing their homes for sale – a very welcome sign for frustrated buyers," Bailey said. "People are relocating as companies and individuals make long-term decisions about remote work and getting back to the office. Also, sellers appear to be more confident about finding another home after they sell their current one. If these trends continue, inventory levels should keep growing."
Other report findings:
–Leading year-over-year sales percentage increases were Honolulu at +92.3%, New York at +80.6% and Miami at +78.4%.
–Fifty-one metro areas increased year-over-year by double-digit percentages, led by Boise, Idaho at +38.0%, Augusta, Maine at +34.7%, and Phoenix at +30.1%. No metro areas saw a year-over-year decrease in Median Sales Price.
–Average days on market for homes sold in June fell to 24, down four days from the average in May and down 21 days from the average a year ago. Metro areas with the lowest days on market were Cincinnati at 9 and Nashville at 11 highest days on market averages were in Miami at 80, Des Moines, Iowa at 73 and New York at 67.