For Housing, 'A' is for 'Austin'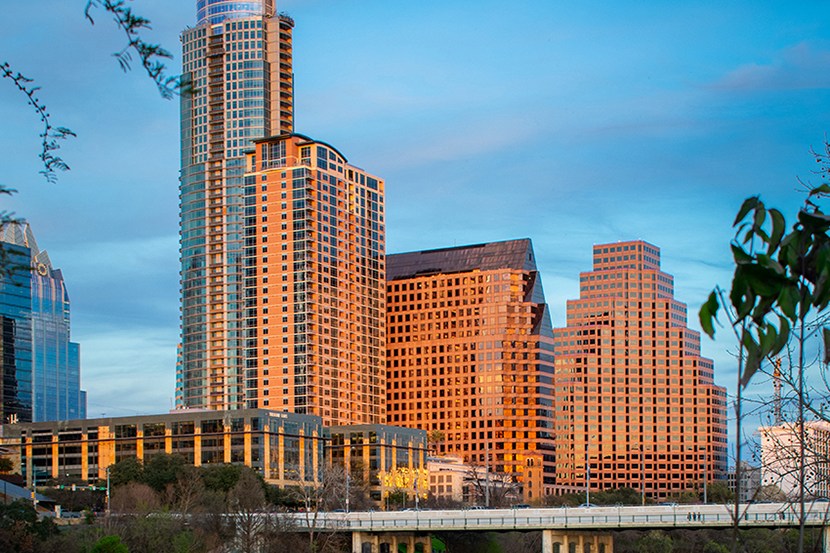 One report says Austin, Texas will be the nation's hottest housing market in 2021. Another report says it already is.
Zillow, Seattle, says Austin heads a lineup of warm and relatively affordable Sun Belt metro areas—including Phoenix, Nashville, Tampa and Denver—that will heat up faster than the nation's coastal markets and most likely outperform the nation in home value growth.
The Zillow survey of economists and real estate analysts said more affordable metros are replacing expensive coastal areas as top drivers of home value growth. The survey said expensive coastal markets such as New York, San Francisco and Los Angeles are most likely to underperform, although Zillow expects growth in every market.
The Zillow Home Price Expectations Survey, sponsored by Zillow and conducted quarterly by Pulsenomics LLC, asked a panel of economists, investment strategists and real estate analysts for their predictions about the U.S. housing market. The Q4 survey also asked about their expectations for 2021 home value growth in 20 large markets compared to the nation.
An overwhelming 84% of those surveyed said Austin values would out-perform the national average, compared to just 9% who believe it would fare worse. Phoenix came in second with 69%, followed by Nashville (67%), Tampa (60%), and Denver (56%). Page views on Zillow for-sale listings in Austin by out-of-town searchers were up 87% in November compared to 2019.
The top-five metros are all affordable options compared to expensive coastal areas that have led home appreciation ranks in recent years, providing relative value for Millennials looking to take advantage of low mortgage rates to buy their first home. The top five are also, for the most part, sunny locales. Four of the five counties holding the largest cities in these MSAs all rank in the top-third of counties in the contiguous U.S. for average daily sunlight, according to NASA data analysed in The Washington Post. Davidson County, home to Nashville, ranked just below the midline. 
"The pandemic has not upended the housing market so much as accelerated trends we saw coming into 2020," said Zillow senior economist Jeff Tucker. "These Sun Belt destinations are migration magnets thanks to relatively affordable, family-sized homes, booming economies and sunny weather. Record-low mortgage rates and the increased demand for living space, coupled with a surge of Millennials buying their first homes, will keep the pressure on home prices there for the foreseeable future."
An improved economic outlook thanks to COVID-19 vaccine roll-outs and better treatments was pegged as the most likely tailwind for the housing market in 2021, followed by sustained strength in first-time home buying among Millennials. It proved a powerful demand driver in 2020 and is expected to persist for years to come.
Zillow cautioned, however, those looking for homes — especially their first — will enter a competitive market. Austin was predicted to be the hottest market in last year's survey, and that proved true. By mid-December the median list price for homes in the Austin metropolitan area was up 23.6% year over year — the largest rise among the 50 largest U.S. markets.
"During the pandemic I think a lot of people spending a big portion of their paycheck on rent or mortgage in cities like New York and San Francisco started working from home and suddenly had options," said Thomas Brown, a Zillow Premier Agent in Austin and CEO of The Agency Texas. "Their dollar goes a lot further in the South, the climate is better, and Austin has a lot to offer — from the food scene to outdoor activities and live music. Those factors are going to continue drawing people into the Austin market in 2021."
Expensive coastal cities are predicted to fall short of the national average — 82% of respondents said New York would see sub-par growth in 2021. San Francisco (77%) and Los Angeles (67%) round out the bottom of the 20-city list. Tight supply conditions and affordability concerns were each cited by 29% of the panelists as the greatest headwind.
"While sustained tailwinds are forecasted this year across most of the shifting U.S. housing landscape, certain densely populated markets with high-priced real estate face prevailing headwinds," said Terry Loebs, founder of Pulsenomics. "Accordingly, home value appreciation rates within coastal cities such as New York, San Francisco, and Los Angeles are projected to see a downshift from last year's remarkable levels."
Meanwhile, Redfin, Seattle, said 30.3% of Redfin.com users looked to move to a different metro area in the fourth quarter, up from 29.2% in the third quarter and 26.2% a year ago, and it's also the highest share since Redfin started tracking migration in 2017.
Redfin said migration from one metro area to another was on the rise throughout 2020, largely due to the pandemic-driven prevalence of remote work, which enabled many homebuyers to prioritize affordability and space over living close to the office.
Austin, Las Vegas, Phoenix, Sacramento and Dallas had bigger net inflows of residents than any other major U.S. metros in the fourth quarter. Homes in all five of those metros are much more affordable than homes in the most common places people are relocating from. For instance, the typical home in Austin sold for $370,000 in December, versus $1.35 million in San Francisco, the top origin of people moving to the Texas capitol.
Redfin said relatively inexpensive inland areas are typically the most popular destinations for people relocating. But many more out-of-town homebuyers looked to move to those destinations in the fourth quarter than the year before. Net inflow significantly increased from last year in all of the top 10 destinations, and it more than doubled in Cape Coral, Fla. (168% increase), Miami (+150%), Austin (+148%) and Dallas (+133%).
"We're seeing a lot of buyers from California, Washington and New York, and the out-of-towners are driving up prices," said Miami Redfin agent Cecilia Cordova. "Relatively low home prices and Florida's low taxes make the Miami area attractive, particularly for buyers of high-end and second homes. The pandemic has made it even more popular, due both to remote work and the fact that more businesses are open in Florida and there are fewer COVID restrictions than many East Coast and West Coast states."
The share of home searches accounted for by out-of-towners also increased from last year in nine of the 10 most popular destinations (Atlanta is the exception).
In Austin, nearly 43% of home searches in the fourth quarter were from out of town, up from 32.5% a year earlier. This is the first time that Austin has topped the list of most popular destinations since Redfin started tracking migration. Phoenix was the most popular destination in the second quarter, and Sacramento was the most popular in the third quarter. Austin has experienced an influx of homebuyers from out of town since the pandemic began, especially remote workers from coastal areas who are attracted to the affordability, walkability and charm of the city.
New York, San Francisco, Los Angeles, Washington, D.C. and Chicago topped the list of metros Redfin.com users were looking to leave in the fourth quarter. Although those are typically the top places people move away from, the number of Redfin.com users looking to leave has increased significantly from last year in all five metros.
The report can be accessed here.