Biden Nominates Rohit Chopra to Lead CFPB
President-Elect Joe Biden on Monday nominated Rohit Chopra, who worked closely with Elizabeth Warren in creating the Consumer Financial Protection Bureau in the wake of the Great Recession, to serve as the Bureau's next Director.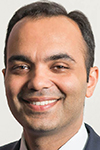 Chopra, currently a Commissioner on the Federal Trade Commission, was among a number of nominees announced yesterday by Biden, including Gary Gensler to serve as Chair of the Securities and Exchange Commission.
"Our administration will hit the ground running to deliver immediate, urgent relief to Americans; confront the overlapping crises of COVID-19, the historic economic downturn, systemic racism and inequality and the climate crisis; and get this government working for the people it serves," Biden said in a statement. "These tireless public servants will be a key part of our agenda to build back better — and I am confident they will help make meaningful change and move our country forward."
Chopra's nomination ends speculation over whether the current CFPB Director, Kathy Kraninger, would finish out her five-year term, which expires in 2023. Ironically, the Trump Administration, which argued successfully before the U.S. Supreme Court (Seila Law v. Consumer Financial Protection Bureau) that the CFPB Director could be fired at will instead of for cause (as crafted in the Dodd-Frank Act), paved the way for Biden's nomination of Chopra.
Chopra worked with Warren in creating the CFPB and in 2011 served as the Department's Student Loan Ombudsman before becoming the Bureau's Assistant Director. He led efforts to spur competition in the student loan financing market, develop new tools for students and student loan borrowers to make smarter decisions and secure hundreds of millions of dollars in refunds for borrowers victimized by unlawful conduct by loan servicers, debt collectors and for-profit college chains. He also served as a Special Advisor at the U.S. Department of Education.
In 2018, Chopra was nominated and unanimously confirmed to serve on the Federal Trade Commission. While on the Commission, he pushed for more aggressive remedies against lawbreaking companies, particularly repeat offenders, and worked to increase scrutiny of dominant technology firms that pose risks to privacy, national security and fair competition.
Chopra holds a bachelor's degree from Harvard University and an MBA from the Wharton School at the University of Pennsylvania.
In a tweet, Warren, now a Democratic senator from Massachusetts, said Chopra "has been a fearless champion for consumers at the FTC and will be a fearless champion leading the consumer agency. "I worked closely with Rohit Chopra to set up the CFPB and fight for America's students. It's terrific that President-elect Biden picked Rohit to run the CFPB."
Chopra's nomination will first go before the Senate Banking Committee. He is expected to have strong support from consumer groups, who were highly critical of actions taken by Kraninger and her predecessor, Mick Mulvaney.