Hotel Rebound Not Likely Until Second-Half 2021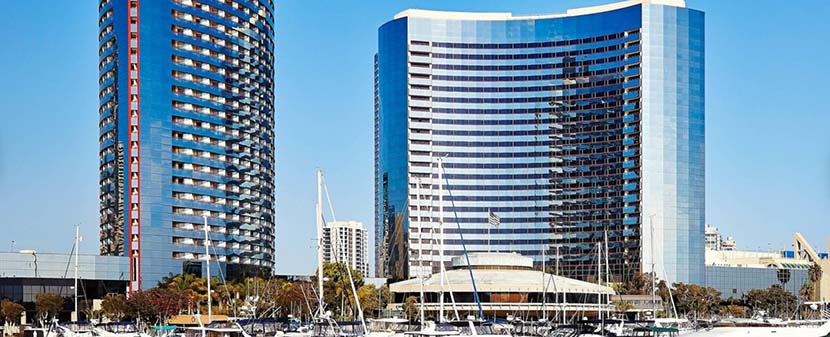 (Marriott Marquis, San Diego.)
The recent surge in COVID-19 infections dampened U.S. hotel performance expectations, but news of effective vaccines has bolstered recovery projections beginning second-half 2021, sector analysts said.
STR, Hendersonville, Tenn., said November hotel profitability fell back to levels seen early in the pandemic and year-over-year declines worsened from the previous month.
"U.S. [hotel] demand and occupancy fell to their lowest levels since May ahead of the Thanksgiving holiday," said STR Assistant Director of Financial Performance Raquel Ortiz. "In recent months, profitability was gaining traction, but due to rising COVID-19 cases and another round of economic closures, levels have since backpedaled." She noted hotel gross operating profit per available room fell 83 percent through November 2020.
CBRE Hotels Research, Dallas, forecasts the hotel sector could see a 44.4 percent average national occupancy level during the first half of this year. But this measure could increase to 55-plus percent during second-half 2021 as regular travel starts to resume.
"The confidence provided by an effective vaccine will serve to sustain the relatively strong leisure travel patterns observed during the summer of 2020, plus initiate a significant return of corporate travelers during the second half of 2021," said CBRE Hotels Senior Economist Research Bram Gallagher.
But the return of 2019-style occupancy, average daily room rates and revenue per available room levels might be delayed until 2024, CBRE Hotels said. Properties that operate in the lower-price segments will likely recover to 2019 performance levels sooner than the higher-priced hotels with one exception: luxury hotels, which have maintained some relative stability in room rates. "It appears that leisure travelers who prefer luxury accommodations continue to have the means to pay the price premium," CBRE Hotels said in its most recent Hotel Horizons report.
CBRE noted U.S. hotel supply will likely increase 1.4 percent this year, but projects net supply gains could dip below 1 percent in 2022, lowering the impact of new competition as lodging demand recovers.