David Olson and Kimberly Browne of Chrysalis Holdings LLC on Mortgage Capital Markets
MBA NewsLink posed questions to David Olson, Chairman of Chrysalis Holdings LLC, Washington, D.C., and Kimberly Browne, the company's President.
Olson was recently named Chrysalis Chairman. A Wall Street veteran, he is founder and CEO of Wind River Capital LLC, a boutique investment bank. Previously, he was Vice-Chairman of the financial institution's group at Piper Jaffray. He was Chairman and CEO of River Branch Holdings LLC, before its sale in September 2015 to Piper and was previously chairman and CEO of Guggenheim Merchant Banking, the private equity arm of Guggenheim Capital in New York and Chicago. In the early 2000s, he was Credit Suisse First Boston's chairman of investment banking for the Asia-Pacific region. Before CSFB's merger with Donaldson, Lufkin & Jenrette, he held several senior executive positions at DLJ, most recently serving as Chairman and CEO of the firm's Asia-Pacific region.
Browne was recently named President of Chrysalis Holdings. She leads corporate finance, capital market strategies and investor relations. She is a former Managing Director of UBS, where she helped relaunch UBS's residential mortgage finance business and was instrumental in growing the platform to become a top-five lender in the country. Prior to her nearly nine years at UBS, she held senior leadership positions with Donaldson, Lufkin & Jenrette, Credit Suisse and Washington Mutual Capital.
MBA NEWSLINK: What is the current capital markets environment for mortgage companies?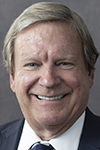 DAVID OLSON: Markets are generally good and relatively calm for mortgages. We think passage of further stimulus plans could increase volatility and test the 10-year yield ceiling and we are keeping an eye on Georgia elections. Mortgage-backed securities are expected to display a smaller version of treasury behavior with mortgage rates remaining a step removed from MBS.
MBA NEWSLINK: We've seen a flurry of public offerings for mortgage firms. Will this continue into next year?
KIMBERLY BROWNE: Yes, we do think public offerings for mortgage firms will continue into next year. A few companies backed by private equity capital were near launch early Q4 and delayed by election uncertainty. We expect to see those plus a few others attempting to launch in 2021.
MBA NEWSLINK: How is the bond market for mortgage companies currently?
OLSON: Mortgages have performed well even through bouts of bond market weakness. The Fed has remained clear on maintaining rates and supporting the purchase of bonds and that has supported all time low mortgage rates.
MBA NEWSLINK: What are your thoughts on the SPAC activity (i.e., United Wholesale Mortgage)?
OLSON: Special purpose acquisition company transactions have been a favored alternative investment vehicle for seasoned investors and management teams to mitigate the increased market volatility risk of traditional IPOs. We expect to see this structure used more frequently in mortgages in 2021.
MBA NEWSLINK: How is the current market for warehouse lending?
BROWNE: Unprecedented mortgage origination volumes have presented balance sheet pressure on financial institutions lending in the space. Lenders are regaining some pricing control as balance sheet supply comes under more pressure.
MBA NEWSLINK: What impact do you expect a post-pandemic world to have on the mortgage market?
BROWNE: The housing market is one segment of the market that continues to thrive amidst the pandemic. Post pandemic, the statistics support a continued geographic shift as households push out from city centers and are adding square footage to accommodate work and school from home. The pandemic hit hardest those in the most vulnerable position, which could make the affordability crisis worse.
MBA NEWSLINK: What do you predict the mortgage merger environment will be like in 2021?
OLSON: Merger discussions will continue to be robust as owners anticipate rate changes; however, we think mortgage banker profitability in 2021 will challenge valuation discussions.
(Views expressed in this article do not necessarily reflect policy of the Mortgage Bankers Association, nor do they connote an MBA endorsement of a specific company, product or service. MBA NewsLink welcomes your submissions. Inquiries can be sent to Mike Sorohan, editor, at msorohan@mba.org; or Michael Tucker, editorial manager, at mtucker@mba.org.)