STR, TE Again Downgrade Hotel Forecast
STR, Hendersonville, Tenn., and Tourism Economics, Wayne, Pa., once again slightly downgraded their forecast for the U.S. hotel sector.
Worsened pandemic metrics and assumptions about limited early-year travel led the firms to change their joint forecast. They now predict full hotel demand recovery will be delayed until 2023 and close-to-complete revenue per available room recovery could wait until 2024.
"While the recent COVID-19 surge has made for a challenging start to the year, our expectation that a strong rebound in travel activity will occur in the second half remains intact," said Tourism Economics President Adam Sacks. "As we emerge from the stiffest periods of the public health crisis and virus-related conditions improve, our collective appetite for travel will kick-start the recovery."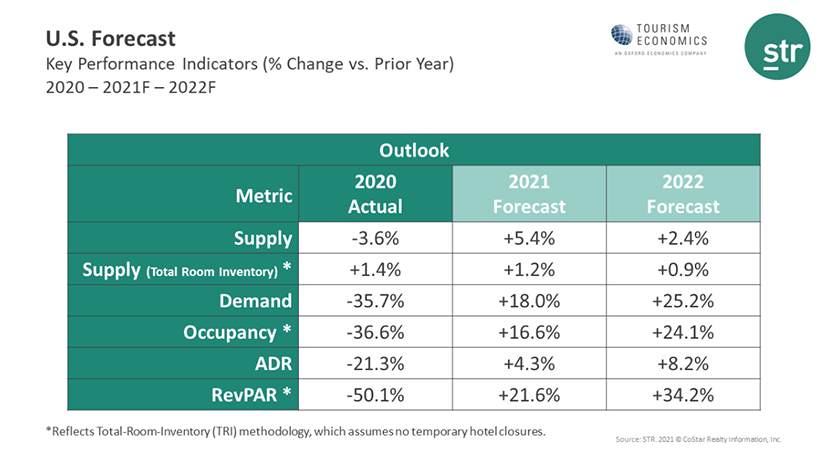 STR President Amanda Hite noted the first few months of 2021 will likely resemble some of the slowest months of 2020. "But we are optimistic that hotel demand will improve as vaccine distribution becomes more widespread and travel confidence grows," she said. "While the early indicators should be visible in the second quarter, we expect the third quarter to be the point where leisure travel shifts into high gear and corporate and group business show more progressive improvement."
Increased group and corporate travel should feed into a 2022 that shows stronger recovery, Hite said.
STR reported U.S. hotel profitability fell nearly 85 percent in 2020. December gross operating profit per available room came in worse than any month since June in both absolute terms and year-over-year comparisons.
"Lower demand in December coupled with fixed expenses for hotels meant profit declines on par with early in the pandemic," said STR Assistant Director of Financial Performance Raquel Ortiz. She said December's poor performance worsened the overall 2020 figures, which showed an average profit level below $15 per room compared to nearly $95 in 2019. "The pattern of dwindling profitability will likely continue in the coming months," she said.
Hotel occupancy remained flat last week from the previous week, STR reported. During the week of Jan. 17-23, hotel occupancy equaled 40 percent, down 30-plus percent from a year before. The average daily rate was $90.13, a 28 percent drop from 2020, and RevPAR was just $36.07, down more than 50 percent from a year before.
A small lift from the presidential inauguration boosted the Washington, D.C.-Maryland-Virginia hotel market to 57.6 percent occupancy last week, giving it the highest tenancy among the 25 largest markets. Large markets with the lowest occupancy levels for the week included Oahu Island, Hawaii (21.7 percent) and San Francisco/San Mateo, Calif. (27.8 percent).