Dealmaker: George Smith Partners Secures $32M in Los Angeles
George Smith Partners, Los Angeles, arranged $31.8 million for two Los Angeles properties: a flex/R&D industrial asset and a two-story retail plaza.
Principal/Managing Director Malcolm Davies, Senior Vice Presidents Zachary Streit and Alexander Rossinsky, Vice Presidents Drew Sandler and Aiden Moran and Assistant Vice President Brandon Asherian arranged $20.6 million in post-closing financing collateralized by a 185,000-square-foot infill flex/R&D industrial property. The recapitalization repatriated equity and provided future funding for property renovations.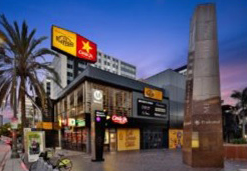 The sponsor's business plan is to renovate the property and cater to growing demand from the many media, entertainment and technology tenants in the Los Angeles market.
The firm also secured $11.2 million in non-recourse cash-out bridge refinancing for a two-story retail plaza in Koreatown. Located next to a Metro D Line subway station along Wilshire Boulevard, the property is anchored by 7-Eleven convenience store and a Carl's Jr. restaurant.
The sponsor announced plans to replace the plaza with a 17-story mixed-use apartment tower that will include affordable units and some commercial space. GSP was engaged to source bridge financing to pay off the existing maturing loan and provide prepayment flexibility once the project's entitlements and permits are secured.
GSP Principal Antonio Hachem led the debt placement team, which also included Vice Presidents John Choi and Wendy Wang and Analyst Cornelius Baliukonis. The financing closed within 11 days of the term sheet being signed.