MBA Voices: Courageous Conversations with Women of Color Continues Feb. 2 with 'Together We Rise'
The Mortgage Bankers Association's popular three-part virtual series, Voices: Courageous Conversations with Women of Color, concludes on Tuesday, Feb. 2 with "Together We Rise."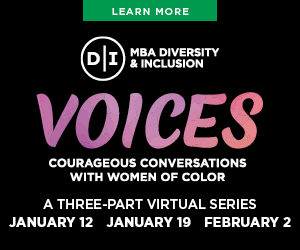 This series explores the experience of being a woman of color in real estate finance. During this series, you will hear from a dynamic lineup of female industry leaders as they share their personal journeys and discuss solutions to bridge the gap through allyship, mentorship and sponsorship. This timely conversation will inspire and inform, while giving voice to the challenges and opportunities to help move our industry forward.
Together We Rise takes place Tuesday, Feb. 2 from 3:00-4:15 p.m. ET. In this final session, we build upon part 1 and 2 of this series as we discuss solutions to bridge the gap through allyship, mentorship/sponsorship and reminding others of their own powerful voice. Join us as we talk about the future of our industry and the role we all play so that together, we will rise.
This series is a collaborative effort between MBA's Diversity and Inclusion, mPower and mPact.
Speakers
Mentor/Mentee Spotlight
–Jimmy Farris (Mentor), NFL Veteran and Super Bowl champion
–Darius Mirshahzadeh (Mentor), former President and CEO, The Money Source
–Mary Nguyen (Mentee), National Sales Manager, CMG Financial
CEO Corner
–Patty Arvielo, Co-founder/President, New American Funding
–Debra Still, CMB, President and CEO, Pulte Financial Services
Who Should Attend
–Real Estate Finance Professionals
–Diversity & Inclusion Professionals
–HR Staff
To register, click here.
For more information, contact MBA Diversity and Inclusion.