National MI Launches $.21for21 Initiative to Benefit MBA Opens Doors Foundation
Last year, National MI, Emeryville, Calif., set a goal to raise $25,000 in donations to the MBA Opens Doors Foundation. It blew past that figure, ultimately raising nearly $50,000 in 2020. This year, National MI has set its sights higher.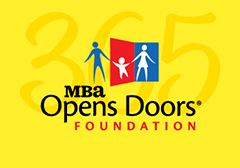 National MI this week launched its $.21for21 initiative. National MI will donate 21 cents for every new loan the company insures this year, so its partners can continue to help families stay in their home.
"COVID-19 continues to impact countless families in need across the country," said Claudia Merkle, CEO of National MI. "Families facing the unimaginable toll that comes with having a critically ill or injured child need support more than ever, which is why National MI is proud to continue its support of Opens Doors with our $.21for21 initiative."
More information and/or to join National MI in its efforts can be found here: https://give.mbaopensdoors.org/NationalMI.
"The pandemic has tested everyone, especially families struggling to keep their home while managing their child's illness or injury. There is, however, one silver lining … the generosity of MBA members like National MI rings clear," said Deborah Dubois, president of the MBA Opens Doors Foundation. "Without a doubt, companies and individuals across the country are stepping up to help struggling families. It's a beautiful thing … and we are grateful for that giving spirit."
The MBA Opens Doors Foundation celebrates its 10th anniversary in 2021, having helped nearly 7,000 families through its Home Grant Program, which provides relief in a time of personal crisis. The Home Grant Program has become a critical part of a family's support structure, especially when a parent or guardian must take unpaid leave to be with a child. Grants of up to $2,500 are made monthly to families in need of mortgage or rental payment assistance.
The Mortgage Bankers Association pays 100 percent of the foundation's administrative and operational costs, so that 100 percent of all donations to the MBA Opens Doors Foundation are passed on directly to families in need.
For more information on Opens Doors' mission, click www.mbaopensdoors.org.