MBA Names 2021-2022 Chairs for Mortgage Action Alliance, MORPAC
The Mortgage Bankers Association announced Steven Plaisance as chairman of the Mortgage Action Alliance and Jeffrey "Jeff" C. Taylor as Chairman of the MBA Political Action Committee (MORPAC).
Plaisance is President and CEO of the Mortgage Division with Arvest Bank, Fayetteville, Ark.; Taylor is Co-Founder and Managing Director at Mphasis Digital Risk LLC, Jacksonville, Fla. Both will serve for the 2021-2022 election cycle.

Plaisance and Tayler were appointed by Susan Stewart, MBA 2021 Chair and CEO of SWBC Mortgage Corp.; and Kristy Fercho, MBA 2021 Chair-Elect and Executive Vice President and Head of Wells Fargo Home Lending. Plaisance will succeed Taylor, who served as MAA Chairman for the 2019-2020 election cycle. Taylor will succeed Eddy Perez, CMB, President and CEO at Equity Prime Mortgage, who served as MORPAC Chairman for the 2019-2020 election cycle.
"Steven is known for his passion and tremendous work ethic, and I have no doubt that he will help strengthen MAA's advocacy and grassroots efforts," Stewart said. "MAA broke membership and activation records this past election cycle, and I look forward to working with Steven to continue the momentum."
Stewart added, "I also want to thank Jeff for his outstanding leadership as past MAA Chairman. MAA experienced record engagement, notable accomplishments, and helped the industry strengthen its collective voice. I look forward to seeing his leadership continue as MORPAC chairman."
Plaisance is President and CEO of Arvest Bank's mortgage banking division, which includes its subsidiary mortgage servicing company Arvest Central Mortgage Co.. Arvest Bank has $24+ billion in assets, 270 bank branches across Arkansas, Kansas, Missouri and Oklahoma. The mortgage banking division originated $4.5+ billion in 2020 and currently services $70 billion in mortgages across all 50 states.
Plaisance has been active in the MBA going back to his graduation of the 1998 Future Leaders program and currently serves MBA as a member of RESBOG, the MBA Investment Committee and the MBA Consumer Affairs Advisory Council.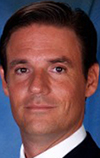 "Jeff is a formidable advocate for the industry, and I look forward to seeing him take MORPAC to new heights and build engagement on the critical issues affecting real estate finance," Stewart said. "He has done a tremendous job as MAA Chairman, and I am confident to see the momentum grow under his leadership. MORPAC is the only PAC that directly represents the interests of the entire real estate finance industry in our nation's political system.
"I also want to thank Eddy Perez for his outstanding term as MORPAC Chairman," Stewart added. "Under his leadership, MORPAC set single-year and single-cycle fundraising records. We are grateful for Eddy's enthusiasm and vision in advocating for many successful outcomes for the industry."
Since 2005, Taylor has been Co-Founder and Managing Director of Mphasis Digital Risk, the nation's largest provider of mortgage risk, compliance and transaction management platforms. In that capacity, he oversees the company's major strategic initiatives, and under his leadership, Digital Risk has grown from a start-up venture to more than 2,000 U.S.-based employees.