Hotel Profits, Recovery Forecast Improve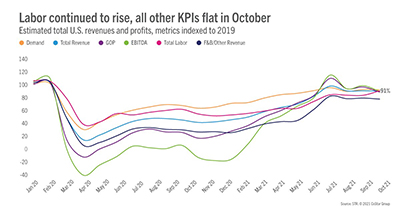 U.S. hotel profitability increased in October, and the sector's recovery trajectory forecast has improved, STR and Fitch Ratings reported.
STR, Hendersonville, Tenn., said all four key hotel profitability metrics increased during the month.
"October data was important to analyze from multiple angles," said Raquel Ortiz, STR Assistant Director of Financial Performance. "The metrics were up quite a bit from September if you measure by available rooms, but that's to be expected as October is usually a stronger revenue month due to conferences and group travel."
Ortiz noted October hotel profit margins came relatively close to October 2019 figures at 38 percent compared to 40.9 percent, "even with less corporate business this year"
STR said industry-wide gross operating profit equaled 89 percent of its 2019 comparable in October while labor costs reached 91 percent of pre-pandemic comparables after reaching a cycle-high 96 percent in September.
Gross operating profit per available room increased to $62.75 in October and total revenue per available room rose to $165.03, STR said.
Fitch Ratings said it expects the lodging sector's general operating environment to improve in 2022. "We slightly increased its recovery trajectory forecast to reflect better than expected near-term results; however, [our] longer-term view is generally unchanged," Fitch said in its U.S. Lodging and Timeshare Outlook. "Occupancy gains and rate performance have outpaced prior 2021 assumptions, supported by healthy leisure travel demand."
Fitch said it assumes U.S. hotel revenue per available room will recover to 80 percent of 2019 levels this year, 81 percent in 2022 and 92 percent in 2023. "We now expect U.S. RevPAR to exceed 2019 prior peak levels during 2024, versus 2025 previously," the report said. "The RevPAR improvement has been broad-based, but the upper price tier has trailed the sector average and remains well below peak 2019 levels."
Fitch noted it expects this performance gap to gradually narrow as cities continue to reopen and businesses increasingly return to the office. "The resurgence of coronavirus cases caused by the Delta variant had less of an impact on lodging demand than expected, which is consistent with the broader, more modest economic impact that additional waves of rising case counts have had in countries with relatively high vaccination rates," the report said. "Hotel occupancies and rates peaked in July but have held up well in the seasonally slower fall period."
Hotel sector risks include new variants or other pandemic-related complications that could hamper the economic recovery, a slower than expected return in business travel or a sharper pullback in leisure demand as consumer travel trends normalize, the Fitch report said.