Rent Payment Percentages Vary by Class, Market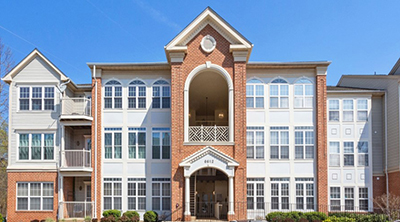 Apartment rent payments have held up reasonably well during the global COVID-19 pandemic, but a report says different markets and different classes report very different results.
RealPage, Richardson, Texas, and Berkadia, New York, said rent payments in Class C apartments dropped more than in Class A or B properties due to the pandemic. "Furthermore, collection rates are in decline for that lowest price point segment of the product mix," the November Berkadia Apartment Advisory said.
RealPage data show only 86.2 percent of renter households living in Class C properties paid rent in October, 7 percentage points below the Class B rate and nearly 8 percentage points under the payment rate in Class A communities.
The report said the share of Class C property residents paying their rent has remained close to 86 percent for four months compared to 89 percent to 90 percent before the pandemic.
"Even in the best of times, many households residing in Class C apartments struggle to make ends meet," the report said. "The share of income spent on housing is higher in this product niche than in Class A or B communities, and comparatively few households have any cash reserves to deal with loss of work or with financial emergencies."
Rent collections remain significantly weaker in a few specific markets, the report noted. "New Orleans is the spot with the biggest struggle," it said. Across classes, the share of New Orleans households making rent payments through October averages just 84.9 percent, in part because the city's hospitality employment has fallen significantly. "Already weak payment levels dropped even further back in September, when Hurricane Ida dislocated many people and caused significant property damage," the report said.
The report noted a reliance on hospitality jobs does not necessarily translate to missed rent payments. "Orlando's share of total employment within the hospitality sector is second only to the share in Las Vegas, and Orlando ranks as a top 10 market for the share of owed rent collected in 2021," it said.
New York's rent payment rate has averaged 92.3 percent this year. New York took the hardest early hit when COVID-19 first emerged and local job losses were huge. "Also, with a smaller share of this metro's apartment product owned by big, national companies, many residents didn't get the assistance provided elsewhere," the report said. "In many other parts of the country, apartment owners played a big role connecting their residents with resources available locally, guiding them through securing unemployment benefits and in some cases actually making direct financial assistance available."
New York's rent collections levels improved this year until the after-effects of Hurricane Ida sent payments plunging in September, the report said.
The share of households paying rent through October averaged 93.5 percent in Los Angeles, the report said. "As in some of the other metros mentioned here, select segments of the Los Angeles economy remain compromised," it said. "Hospitality employment is way down, but improving, and that's true for much of the entertainment production sector as well. Looking back to last year, apartment owners and operators in Los Angeles initially reported spotty problems with qualified rents choosing not to pay their bills, but most say that challenge is less frequent now."