MBA Forecast: 2021 Purchase Originations to Hit Record $1.6 Trillion

The Mortgage Bankers Association this week released its December Economic and Mortgage Market forecasts, showing overall 2021 mortgage originations expected to fall just short of last's years record, but purchase originations expected to rise to a record $1.6 trillion—and go even higher in 2022.
The $1.6 trillion in 2021 purchase originations would eclipse the previous record of $1.51 trillion in 2005.
MBA anticipates refinance originations will come in at $2.32 trillion – a decline from $2.63 trillion in 2020 but still the third-highest total on record.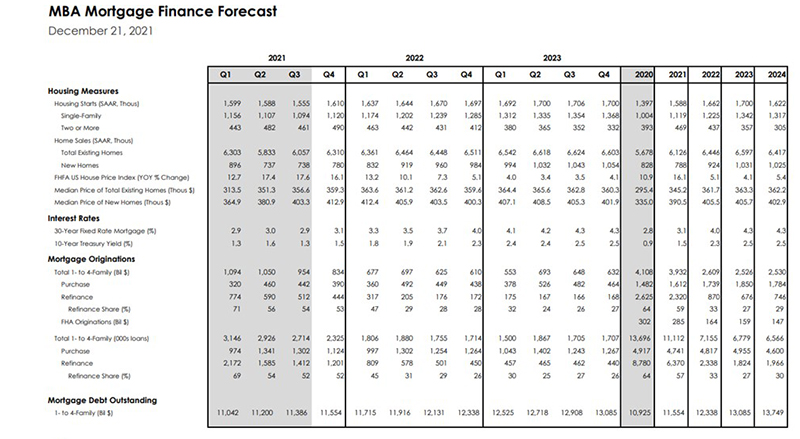 The forecast said mortgage originations are expected to finish the year at $3.93 trillion, just short of 2020's record $4.1 trillion.
Additionally, the 2021 forecast noted after a decline of 2.3% in 2020, the economy is expected to have rebounded to a growth rate of 5.5%.
Looking ahead to 2022, MBA said total mortgage originations are expected to decrease to $2.61 trillion in 2022, as more of the activity shifts to the purchase market. While refinance originations are expected to drop to $870 billion, purchase originations are forecast to eclipse 2021's record high and reach $1.74 trillion, backed by strong housing demand and rising home prices and sales.
Other forecasts for 2022:
Home-price growth is forecast to moderate to 5.1%.
Mortgage rates are expected to rise throughout the year and reach 4.0% by December 2022.
Economic growth is forecast at 4.0% in 2022, with the unemployment rate declining to 3.5% by the end of the year.