RIHA Study: U.S. Household Net Worth Up 17.6% Between 2016-2019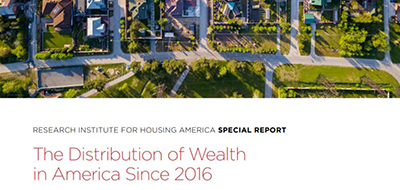 The median net worth of U.S. households increased from $103,000 in 2016 to $127,000 in 2019 – a gain of 17.6% and the highest amount since 2007, according to The Distribution of Wealth in America Since 2016, a new report released Thursday by the Mortgage Bankers Association's Research Institute for Housing America.
"After nearly a decade of rising inequality during the Great Recession and its aftermath, the distribution of wealth in the United States became somewhat more equal between 2016 and 2019. Americans became richer, with middle-class households on the receiving end of a bigger slice of the wealth gains," said John C. Weicher, author of the report and Director for the Center for Housing and Financial Markets with the Hudson Institute.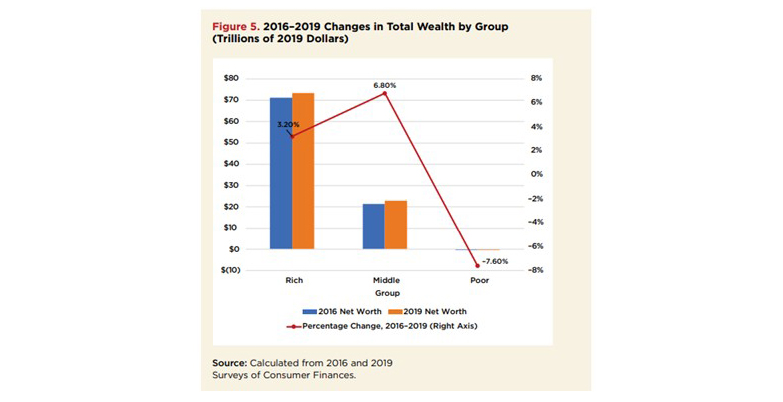 The study reported growth in homeownership and the steady rise in home values and the stock market drove the increase in middle-class wealth. It said the median net worth of every racial and ethnic category also increased, with the largest increases coming from Black and Hispanic households.
"Thankfully, the quick rebound in the labor market and the unprecedented policy response have mostly kept households afloat during the COVID-19 pandemic, and the strong housing market and stock market have boosted overall wealth," Weicher said.

"Homeownership is the primary source of wealth accumulation for most middle-class households, and the final years of the 2010s saw an increase in the homeownership rate at a time of steady-rising home values," said Edward Seiler, RIHA Executive Director and MBA Associate Vice President of Housing Economics. "Fast-forward to 2021, and the significant demand for homebuying amidst low inventory levels has further fueled gains in home prices and most homeowners' equity. However, there are still wealth disparities by race. Among middle-wealth households, white households have higher homeownership rates and have more home equity."
The report works off of the same framework as its 2020 report, The Distribution of Wealth Since the Great Recession. Data from the Federal Reserve Board's triennial Survey of Consumer Finances was used to study the distribution of household wealth, its main components and how the evolution of household wealth has affected poor, rich and middle-wealth households from 2016 to 2019. The top 10% of households, by net wealth, are classified as rich, and the bottom 30% as poor. The report also looks at the post-2019 economy, and the U.S. policy response to help businesses and households during the ongoing pandemic.
RIHA is a 501(c)(3) trust fund. RIHA's chief purpose is to encourage and assist – through grants to distinguished scholars and subject matter experts, educational institutions, research facilities and government organizations – establishment of a broader-based knowledge of mortgage banking and real estate finance. Additional studies can be accessed on RIHA's website: http://www.housingamerica.org.