MBA Opens Doors Foundation Tops $4.24 Million in 2021 Housing Assistance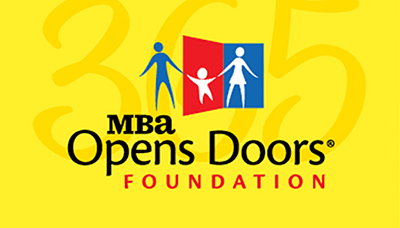 The MBA Opens Doors Foundation announced it granted $4.24 million in assistance to 1,784 families with critically ill or injured children in 2021.
Opens Doors provides mortgage and rental payment assistance grants to qualified families with children in treatment at one of the Foundation's 13 network hospitals. The grants provide relief to parents struggling financially to care for a sick child, as well as the relief of knowing their housing payment is secure.
In 2021, the Foundation launched its Pandemic Relief Program, doubling its support to 950 families who had received a mortgage or rental payment assistance grant during the year.
"Recognizing the impact the COVID-19 pandemic has had – and continues to have – on families with critically ill or injured children, we knew we needed to do more to help keep those affected in their homes," said Debra W. Still, CMB, President and CEO of Pulte Financial Services and Opens Doors Foundation Chair. "With the support of generous donors from the real estate finance industry, our Pandemic Relief Program was able to help almost 1,000 families at arguably the most difficult period in their lives. It makes me proud to be part of a community that truly cares about the welfare of our neighbors."
The Pandemic Relief Program, which provided more than $1.48 million in mortgage and rental assistance grants, was created to assist families severely impacted by the pandemic. Families receiving the supplemental assistance had a child in the hospital for 15 or more days or a combination of 25 days in-patient and professional in-home care.
"The COVID-19 pandemic continues to disrupt lives throughout the world, but sadly many of the families we serve have borne the brunt of its financial and emotional havoc," said Deborah Dubois, President of the MBA Opens Doors Foundation. "Providing assistance, especially to families navigating a child's critical illness or injury, is not just a nice thing to do, it is a moral imperative."
The Opens Doors Foundation, through its Home Grant Program, provides relief in a time of personal crisis. The Home Grant Program has become a critical part of a family's support structure, especially when a parent or guardian must take unpaid leave to be with a child. Grants of up to $2,500 are made monthly to families in need of mortgage or rental payment assistance. The Foundation has provided more than $15 million in mortgage and rental payment assistance to nearly 10,000 families since its inception in 2011.
For more information on Opens Doors' mission, click here.
Committed to helping families around the country stay in their homes while a child is being treated for a critical illness or injury, the Mortgage Bankers Association established the MBA Opens Doors Foundation to help families in need meet their mortgage and rental obligations. MBA generously pays 100% of foundation's administrative expenses so that 100% of every donation goes to a family in need. Potential grant recipients are identified through the foundation's ongoing relationship with children's hospitals in Akron, OH; Indianapolis, IN; Boston, MA; Dallas-Fort Worth, TX; Denver, CO; Houston, TX; Northern and Southern CA; Philadelphia, PA; Tulsa, OK and Washington, D.C. MBA Opens Doors is a 501(c) (3) organization, and all contributions are tax deductible. For more information about the foundation or to make a donation, visit www.mbaopensdoors.org.