3Q Home Flipping Profit Margins Drop to 10-Year Low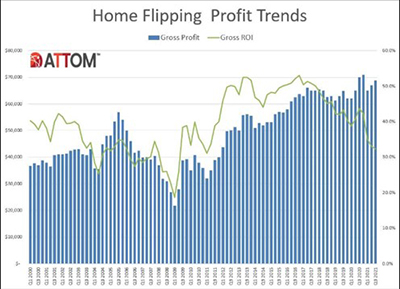 ATTOM, Irvine, Calif., said home-flipping became more popular in the third quarter—but it wasn't as profitable.
The company's quarterly U.S. Home Flipping Report said 94,766 single-family houses and condominiums flipped in the third quarter, representing 5.7 percent of all home sales in the third quarter, or one in 18 transactions—the second consecutive quarterly increase after a year of declines.
But the report also said typical raw profits remained below a year ago and profit margins dipped to their lowest point since early 2011.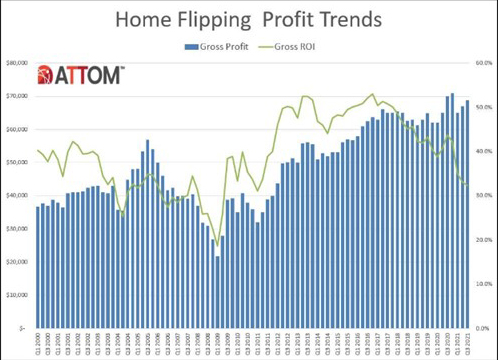 Among all flips nationwide, the gross profit on typical transactions (the difference between the median sales price and the median paid by investors) stood at $68,847 in the third quarter of 2021. While that was up 2.7 percent from $67,008 in the second quarter, it was 1.6 percent less than $70,000 posted a year ago.
Profit margins, meanwhile, fell for the fourth straight quarter, as the typical gross-flipping profit of $68,847 in the third quarter translated into just a 32.3 percent return on investment from the original acquisition price. The national gross-flipping ROI fell from 33.2 percent in the second quarter and from 43.8 percent a year earlier, to its lowest point since first quarter 2011. This decrease in profit margin represented the biggest annual drop since early 2009.
The report also noted profit margins declined in the third quarter as prices on flipped homes continued to rise more slowly than they did when investors originally bought their properties.
"Home flipping produced another round of competing trends in the third quarter of this year as more investors got in on the action but got less out of it," said Todd Teta, chief product officer with ATTOM. "It's clear that declining fortunes weren't enough to repel investors amid a typical scenario of 32 percent profits before expenses on deals that usually take an average of five months to complete. We will see over the coming months whether the amount they can make on these quick turnarounds will still be enough to keep luring them into the home-flipping business or start pushing them elsewhere."