Consumer Confidence Falls to 7-Month Low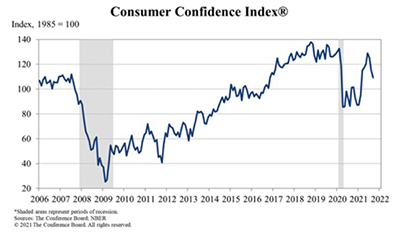 Consumer confidence took another hit in September, The Conference Board reported Tuesday, as the lingering Delta variant and concerns over the economy interrupted momentum sent the index to a seven-month low.
The Board's Consumer Confidence Index fell for the third straight month and now stands at 109.3, down from 115.2 in August, to its lowest level since February. The Present Situation Index—based on consumers' assessment of current business and labor market conditions—fell to 143.4 from 148.9 last month. The Expectations Index—based on consumers'  short-term outlook for income, business, and labor market conditions—fell to 86.6 from 92.8.
"Consumer confidence dropped in September as the spread of the Delta variant continued to dampen optimism," said Lynn Franco, Senior Director of Economic Indicators with The Conference Board. "Concerns about the state of the economy and short-term growth prospects deepened, while spending intentions for homes, autos, and major appliances all retreated again. Short-term inflation concerns eased somewhat, but remain elevated. Consumer confidence is still high by historical levels—enough to support further growth in the near-term—but the Index has now fallen 19.6 points from the recent peak of 128.9 reached in June. These back-to-back declines suggest consumers have grown more cautious and are likely to curtail spending going forward."
"With no shortage of other factors to blame, such as wildfires, war, hurricanes and a border crisis, we see room for improvement in coming months," said Tim Quinlan, Senior Economist with Wells Fargo Economics, Charlotte, N.C. "A strong labor market might be the only thing giving consumers much cheer these days amid an onslaught of negative news."
The report said consumers' appraisal of current business conditions declined in September: 19.3% of consumers said business conditions are "good," down from 20.2%; 25.4% of consumers said business conditions are "bad," up from 24.1%; and consumers' assessment of the labor market was mixed, as 55.9% of consumers said jobs are "plentiful," up from 55.6%. Conversely, 13.4% of consumers said jobs are "hard to get," up from 11.2%.
Consumers' optimism about the short-term business conditions outlook eroded further in September: 21.5% of consumers expect business conditions will improve, down from 23.4%; 17.6% expect business conditions to worsen, up from 17.4%. Consumers were also less optimistic about the short-term labor market outlook. While 21.5% of consumers expect more jobs to be available in the months ahead, down from 23.1%, 20.3% anticipate fewer jobs, up from 18.0%. Consumers were slightly less positive about their short-term financial prospects: 17.3% of consumers expect their incomes to increase, down from 18.2%, while 11.5% expect their incomes will decrease, up from 9.9%.
"While consumers know there are a lot of opportunities out there currently, they are more concerned about what employment will look like in a few months," Quinlan said. "This may also just be the consequence of coming off of a hot labor market and the expectation that things can only be so good for so long. Next week's employment report should be able to shed more light on the state of the labor market and whether August was a blip, as we suspect, or the start of a weaker trend."