Commercial Real Estate Lending Markets Mirror Economic Recovery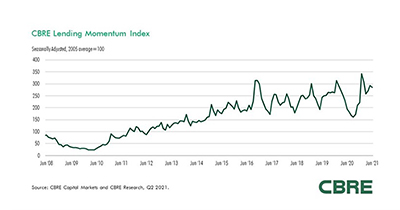 CBRE, Dallas, reported commercial lending markets strengthened in the second quarter, mirroring the wider economic recovery.
The CBRE Lending Momentum Index, which tracks U.S. commercial loan closings, remained strong at the mid-year point, reaching 256–up 10.8 percent from March and now just 1.8 percent below its February 2020 pre-pandemic close. The index is up 47.3 percent from a year ago, when lending activity fell sharply due to the COVID-19 pandemic. Lending activity hit its most recent low in September 2020 with a 160 index value.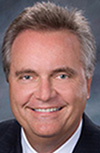 "Borrower's growing risk appetite has fueled demand for transitional financing, such as bridge loans," said Brian Stoffers, CMB, Global President of Debt & Structured Finance for Capital Markets at CBRE (and past Chair of the Mortgage Bankers Association). "As a result, alternative lenders led Q2 non-agency commercial mortgage origination activity. Regional banks and life companies provided competitive quotes, while commercial mortgage-backed securities loan origination activity improved."
The survey indicated activity by alternative lenders such as debt funds, pension funds and credit companies surged in the second quarter, accounting for nearly 40 percent of all loan closings compared to 30.6 percent in early 2021 and just 6.5 percent in second-quarter 2020. Bridge financing to help borrowers stabilize their properties accounted for more than 80 percent of alternative lender closings, the report said.
Banks accounted for 24.3 percent of total loan volume between April and June. Regional and community banks were the most active. Construction loans accounted for 46 percent of bank lending volume, largely due to increases in industrial and multifamily development.
Life companies accounted for 22.7 percent of commercial mortgage originations in the second quarter, up from 19.2 percent in the first quarter. Despite some concerns over their mortgage allocations for the second half of the year, life company loans under application have been strong in recent weeks, CBRE said.
In a sign of their more competitive pricing, commercial mortgage-backed securities lenders originated 14.3 percent of commercial mortgages in the second quarter, up from 11 percent in the first. Industrywide CMBS issuance totaled $45.7 billion year-to-date through June, up from $30 billion for the same period a year ago. The report noted the single-asset, single-borrower market has been particularly active, offering efficient financing for larger deals and portfolios.
While underwriting criteria remained generally consistent with early 2021, underwritten cap rates and debt yields inched higher, CBRE said. The percentage of loans carrying full or partial interest-only terms fell for the second consecutive quarter to 54.2 percent from 60.6 percent in early 2021, reflecting a higher share of amortizing non-agency loans. This figure has averaged 63 percent for the past two years.