MBA Advocacy Update Monday Aug. 30 2021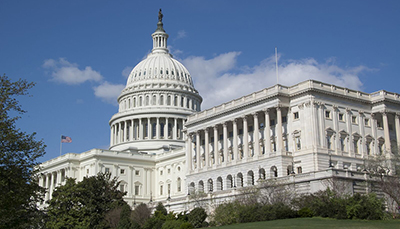 Bill Killmer bkillmer@mba.org; Pete Mills pmills@mba.org.
On Tuesday, the House voted to adopt a $3.5 trillion budget resolution framework for Fiscal Year 2022. Also on Tuesday, MBA submitted a joint coalition letter to HUD on its disparate impact rule. And we encourage you to participate in a new DEI survey. See below for more information.
1. House Clears First Hurdle to Advance $3.5 Trillion Budget Resolution
On Tuesday, the House voted along party lines to adopt a $3.5 trillion budget resolution framework for Fiscal Year 2022, clearing a procedural hurdle to advancing key Biden administration tax priorities. The budget resolution passed within a House rule that also allows for a floor vote on the Senate-passed bipartisan infrastructure bill by September 27. House and Senate committees are now preparing to finalize legislation within their respective policy jurisdictions to include as part of a reconciliation package.
Why it matters: The budget resolution framework sets the stage for large potential investments in public, green/sustainable, and affordable housing to be offset by a series of proposed tax changes, including several that would directly impact the residential real estate industry. Democrats only need a simple majority in both chambers of Congress to pass a final bill via the reconciliation process.
What's next: House and Senate committees will begin finalizing legislation in earnest in the coming days and weeks, with congressional leaders giving committees a Sept. 15 target deadline to develop their portions of the reconciliation bill. Mortgage Action Alliance members need to take action TODAY to urge Congress to preserve industry tax priorities that support real estate investment.
For more information, please contact Borden Hoskins at (202) 557-2712 or Alden Knowlton at (202) 557-2741.
2. MBA Responds to HUD's Proposed Disparate Impact Rule
On Tuesday, MBA filed a joint comment letter in response to HUD's proposed disparate impact rule. MBA was joined in its response by a group of financial trade associations, including the American Bankers Association, Consumer Bankers Association, and the Independent Community Bankers Association. The associations' comment letter urges HUD to ensure that revisions to the disparate impact rule maintain consistency with the Supreme Court's decision in Texas Department of Housing and Community Affairs vs. Inclusive Communities Project, Inc.
Why it matters: If finalized, the proposed rule would reinstate the disparate impact standard previously promulgated by HUD in 2013.
For more information, please contact Justin Wiseman at (202) 557-2854, Lucia Jacangelo at (202) 557-2941, or Blake Chavis at (202) 557-2930.
3. MBA and Illinois MBA Submit Testimony on Application of State CRA Law to IMBs
Last week, MBA and the Illinois MBA submitted written testimony to the Illinois Department of Financial Protection and Professional Regulation's hearing to receive input on its July 26 Advance Notice of Proposed Rulemaking to implement the state's Community Reinvestment Act. This IDFPR session was devoted to the CRA's application to independent mortgage banks. The joint testimony reiterated MBA's views on the incompatibility of the CRA with the IMB business model, and provided detailed data highlighting the strong record of IMB lending to low- and moderate-income (LMI) and minority borrowers in Illinois. MBA urged the final rule be tailored to minimize compliance burdens for lenders by establishing a presumption of compliance with the state's CRA requirements for those IMBs that meet or exceed statewide industry averages for lending to LMI borrowers or using government-supported affordable housing programs. If lenders do not meet or exceed the presumption criteria, the rule should provide ample opportunity for these companies to provide input on the full range of their business activities that support the important goal of expanding mortgage credit and housing opportunities to LMI borrowers and communities.
Why it matters: If other states enact similar ill-informed CRA laws for IMBs, the presumption of compliance arguments advanced in the testimony could serve as a model for significantly mitigating the compliance challenge for MBA members.
What's next: MBA and the Illinois MBA (IMBA) will continue to collaborate in responding to the ANPR ahead of the November due date for all comments.
For more information, please visit MBA's State CRA resource center or contact Pete Mills at (202) 557-2878 or William Kooper at (202) 557-2737.
4. MBA and New York MBA Urge New York Governor to Focus on Key Industry Priorities
Last week, as Kathy Hochul was sworn in as New York's 57th governor, MBA and the New York MBA delivered a letter providing guidance to the new governor and her team on critical real estate finance issues that were pending before Gov. Andrew Cuomo prior to his resignation.
Why it matters: The letter urged Hochul to step up efforts to distribute federally allocated rental and homeowner assistance funds, sign remote online notarization legislation, veto legislation to create a Community Reinvestment Act for nonbank residential lenders, and exclude from the forthcoming 2022-23 state budget a new tax and recording of mezzanine debt and preferred equity investments.
What's next: MBA and the New York MBA asked to meet with the governor's new team to learn how the associations can cooperate with the administration in supporting the expansion of affordable homeownership and rental housing as well as ways to expand commercial real estate opportunities for New York businesses.
For more information, please contact William Kooper at (202) 557-2737 or Grant Carlson at (202) 557-2765.
5. Washington DFI Postpones Final Rules for Remote Work Law and Extends Interim Guidance
On Monday, the Washington Department of Financial Institutions withdrew its request for comment on proposed rules that would implement Washington's recently enacted law (SB 5077) that allows mortgage loan originators to work from a remote location. The DFI cited the need for further consideration before reissuing the rules. In addition, the DFI announced that the interim guidance to allow remote work will remain in effect until the end of 2021 and will be extended as necessary.
Why it matters: The remote work provisions of the Washington's interim guidance are consistent with the MBA model and other states that have acted to permit remote work.
What's next: MBA will continue to work with state and local association partners to advocate for its model legislation and regulation for licensing flexibility. In addition, MBA is asking members to provide any information on legislative or regulatory efforts in their state that would allow remote work by contributing to a Google spreadsheet that will be used to update the information on MBA's resource center. If you do not have access to a Google account, please contact Kobie Pruitt and he will provide you with a digital copy of the spreadsheet to fill out.
For more information, please contact William Kooper at (202) 557-2737 or Kobie Pruitt at (202) 557-2870.
6. Participate in the New Diversity, Equity and Inclusion (DEI) Study
Sign up today to participate in a new offering to MBA members, the Diversity, Equity and Inclusion Study. The study is separately designed and compiled for both the residential and commercial/multifamily sides of the real estate finance industry, and is administered by world-class human resources advisory firm McLagan, part of Aon plc. All participating companies are encouraged to complete as many sections of the study template as possible on the following topics: Policy and Initiatives; Headcount by Mortgage Job Function; Headcount by EEO-1 Categories; and Headcount by Movement.
Why it matters: Over the past year, racial and gender inequalities have shaped our nation's conversation, and MBA remains committed to supporting our member companies by forming solutions. Participating will give our industry a baseline from which to improve and to see how member companies compare to the industry as a whole.
What's next: Individual company data will be kept confidential in accordance with McLagan's high standards. As a bonus, MBA members save $1,000 off the regular survey pricing. The general timeline is provided in the registration form, with data due back to McLagan in mid-September and results released in October 2021.
For specific information about the DEI study, please email Dave Rosenthal at McLagan or call (203) 326-4349. For general questions, please contact MBA Research members Marina Walsh, CMB at (202) 557-2817 or Jamie Woodwell at (202) 557-2936.
7. Upcoming MBA Education Webinars on Critical Industry Issues
MBA Education continues to deliver timely programming that covers the spectrum of challenges, obstacles and solutions pertaining to our industry. Below, please see a list of upcoming webinars – which are complimentary to MBA members:
Budgeting and Financial Planning for Non-Believers – September 9
Introduction and Walkthrough of MISMO's Enhanced Logical Data Dictionary (LDD) – October 6
MBA members can register for any of the above events and view recent webinar recordings. For more information, please contact David Upbin at (202) 557-2890.