MBA Annual Convention & Expo in San Diego Oct. 17-20
Meet industry innovators and experts at the Mortgage Bankers Association's Annual Convention & Expo 2021, taking place Oct. 17-20 at the San Diego Convention Center.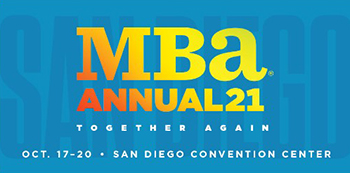 The largest annual gathering of real estate finance professionals, MBA ANNUAL21 is the one event you need to gain access to the industry's power players and innovators.
Be inspired and get informed by engaging speakers on the Main Stage.
Meet with hundreds of exhibitors in THE HUB and get hands-on access to the latest products and services.
Dive deep into Breakout Sessions to get the insight you need on all the facets of the business.
Connect with industry peers through unparalleled networking opportunities.
Leave MBA ANNUAL21 with more than just great memories. Leave with actionable takeaways for future success.
For more information and to register, click here.