Dealmaker: Walker & Dunlop Arranges $56M for Ohio Adaptive Reuse Project
Walker & Dunlop, Bethesda, Md., arranged $55.5 million for Quarry Trails Apartments and Quarry Trails Townhomes and Flats, a 293-unit multifamily and 100-unit townhome project located within a decommissioned quarry in Columbus, Ohio.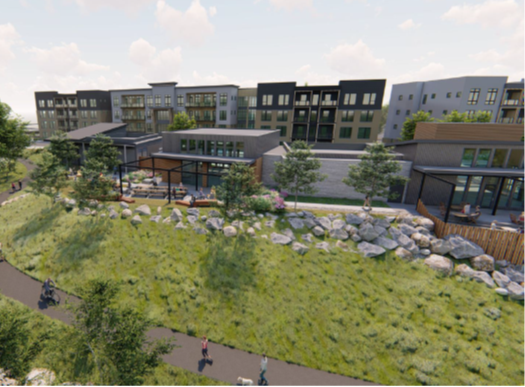 Through a partnership with the Columbus and Franklin County Metro Parks, developer Thrive Companies, Columbus, is positioning the development within a natural park alongside a 60-foot waterfall, 160-foot vertical rock face and more than two miles of river front trails.
Thrive said its adaptive reuse plan for Quarry Trails reflects the community's natural surroundings, designed as an extension of the 180-acre park with green features in mind. Phase one of development will also include a multi-use downtown area containing an office building, 20,000 square feet of retail space and a community center.
Construction financing was arranged by Walker & Dunlop Managing Directors Jeff Morris and Chad Kiner and Director A.J. Mangan of the firm's Ohio Capital Markets group. The team identified two Columbus-area banks as capital partners to finance the land acquisition and property construction. Quarry Trails Apartments and Quarry Trails Townhomes and Flats have a competitive three-year construction and semi-permanent financing term and a five-year financing term, respectively.
Morris noted the development will have an architectural style that complements the former limestone quarry's landscape.