MBA NewsLink Tech All-Star 2021: Connecting the Mortgage Ecosystem—Matt Hansen, Founder and CEO, SimpleNexus
By Laura Lang
It's easy to make Matt Hansen happy. "I just love writing code," the Founder and CEO of SimpleNexus and MBA NewsLink 2021 Tech All-Star, said. "If I wasn't writing code at work, which I did for 14 years, I was writing code at home. Even after a decade of it, I just couldn't get enough of it."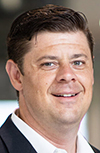 All that time spent with sequencing and algorithms certainly paid off. Hansen's love of coding led to development of SimpleNexus, an end-to-end mortgage technology platform that plays a role in 13% of all home loans originated in the U.S. and serves a user base of more than 33,000 loan originators and 141,000 real estate agents and nearly four million borrowers.
In 2020 alone, SimpleNexus, Lehi, Utah, added 67 enterprise lenders to its customer roster and handled more than $520 billion in loan volume.
Dinner and an App
But it all started quite small.
At a family dinner in 2010, Hansen's brother-in-law, a loan officer, asked him if he could build an app that would let borrowers calculate their monthly payment with varying down payment amounts to see the differences.
"I told him sure; I could do that on Saturday," Hansen said. He even added his brother-in-law's face and phone number to the app so it would function like an electronic business card.
Apps were generally becoming popular at the time and the loan calculation/business card app Hansen built was an immediate hit, especially with his family. Hansen's mom, also a loan officer, wanted one. So did his other brother-in-law, a loan officer. And soon all of their peers and coworkers wanted one too.
Hansen jokes he created hundreds of variations of the LO app, adding new features and functionality, before realizing the side gig was taking a lot of his free time away, and, in fact, was becoming a full-time job in his off-hours. In February 2014, he quit his job at Simplifile, where he had led the core development team, to focus on the app. He rounded up some buddies and designed a more robust version of the app that could be scaled for larger installations, such as banks and mortgage offices. While many of the basic app functions remained, new features were added to keep users in compliance with Dodd-Frank and other emerging regulations.
Demand kept growing, and soon Hansen was adding functionality to connect lenders with real estate offices. "We wanted to co-brand the app with realtors, so they would send referrals to lenders, kind of a warm handoff," says Hansen. "We also added tools the borrower could use to get financing and go through the loan process."
Following the Data
The timing couldn't have been better.
Hansen's innovations pumped new life into an industry not always known for being tech-savvy. While skeptics thought the industry would never embrace a digital mortgage app, Hansen believed — and data indicated — that LOs and borrowers would prefer the convenience and portability of a mobile origination experience if it were easy to use and dynamic enough to get the job done.
He also knew that a full-fledged mobile app would allow SimpleNexus to put far-richer features and tighter security in the hands of borrowers and loan originators than could be achieved with garden-variety "mobile-friendly" web applications. "It's more costly and time-consuming to develop a native mobile app, but we wanted our users to be able to really engage and rely on the product," he said.
Today, SimpleNexus is a mobile-native homeownership platform where borrowers can apply for a loan, sign disclosures, submit documentation, communicate with their lender and close on their loan. In short, SimpleNexus has brought the intuitive purchase experience consumers have come to expect from their favorite commerce apps to mortgage lending.
What's more, the mobile usability that is a defining feature of SimpleNexus empowers loan teams to collaborate effectively in a hyper-volume, decentralized working environment. Originators can get pricing and send pre-qual letters with the tap of a button from the passenger seat of a car, send disclosure packages as they help their children with eLearning and send and receive automated push notifications that keep their pipelines flowing forward.
Growing the Business
Hansen attributes SimpleNexus' runaway success to it being the single-most complete homeownership platform for homebuyers and a relentlessly efficient lender tool. In a testament to the platform's momentum, SimpleNexus recently raised $108 million in a Series B funding round led by Insight Partners and has become one of the nation's fastest-growing private firms, having increased revenue 834% from 2016 to 2019. It only follows that SimpleNexus has appeared on the Inc. 5000 for the past three years, held a spot on the Deloitte Technology Fast 500 for the past two years and earned rankings on several of Utah's fastest-growing company lists.
An independent, third-party analysis conducted by MarketWise Advisors showed that lenders using SimpleNexus consistently produce more loans and spend less on per-loan operational expenses. Key findings revealed SimpleNexus customers received nine times ROI from their spending on the platform. On average SimpleNexus customers received a 12.85% increase in inbound leads/referrals, improved loan conversion rates by 13.16% and saved lenders $258.36 per loan in operational expenses.
Despite its rapid growth, SimpleNexus hasn't lost sight of what's most important — the customer — as evidenced by its year-over-year customer retention rate of 98.5%, a practically unheard-of number in the SaaS world.
Industry Partner
Hansen spent 20 years developing software and has learned the ins and outs of the mortgage business along the way. "In the beginning, I thought we could build this electronic business card thing and sell it to many industries, but the more we got into mortgages, the more I became enamored with the mortgage space," he said. "In 2011, I decided we would focus our efforts on the mortgage market…There's enough here to keep us mentally stimulated. There was no need to move to other areas."
Since then, he's become an active member of MBA, the CMBA and National Association of Mortgage Brokers. He supports the MISMO mission through organizational membership and has contributed his subject matter expertise as a speaker at mortgage industry events and articles.
He's also running a thriving business. Since 2019, SimpleNexus has grown from 35 to 150 employees. The development team, now 50 employees strong, once grew from four engineers to 30 in a single summer. The mission is simple: Build functions that will further simplify the mortgage process for lenders, borrowers, real estate partners and settlement providers.
Hansen has enshrined this conviction in a company value he calls "love for the customer." According to Hansen, "SimpleNexus' past and future success is based on its ability to listen to and collectively work in the best interest of our customers. "We must never fall into the trap of creating a product and then trying to convince customers to fall in love with it. We will only succeed as a company if we succeed at making our customers' and our partners' lives better."
He expects employees to live up to a few core values he calls HIVE (for Hungry, Innovative, Vibrant and Empathetic). "I think empathy is very important," he explains. "We need to understand our customers and do what we can to make their lives better in every way. It's all about them, nothing else matters at the end of the day."
Back to Basics
Hansen describes himself as a heads-down person. "I just want to solve problems," he says. "I constantly ask myself, 'How do we do more? How do we deliver faster? What challenges are we facing in our organization?'"
His immediate goals include adding functionality to SimpleNexus on the closing side and adding more value for real estate agents as the purchase market starts to heat up.
The thing he misses? Writing code. "Coding was my escape, and I haven't done it in years. But I am in a very good place with how the company is being run and our customers are being put at the forefront of everything we do."
"I love creating. I love building new things, and it's gratifying to work in an industry that has traditionally been underserved from a technology perspective," he added. "The thing that makes me ultimately happy is building cool software that delivers value. At the core, that's what makes me happy."
It's also apparently making the industry very, very happy.