'Adapt and Pivot:' MBA's Marcia Davies and Elaine Howard on the MBA 2021 Spring Conference
(Editor's Note: The Mortgage Bankers Association's Spring Conference & Expo 2021 begins this morning and runs through Thursday, Apr. 22.)
When the full effects of the coronavirus pandemic began hitting in March 2020, the Mortgage Bankers Association quickly realized that life as usual—and business as usual—could take a long time to return to "normal."
Across the nation, offices emptied; business travel all but ceased; the economy foundered; and most Americans retreated into their homes and apartments. As this happened, the MBA senior management team came to several important conclusions: the mortgage business would continue to function at a high level; and MBA members would continue to need—perhaps more than ever—the valuable services and networking opportunities the Association provided.
And those services included MBA conferences. In 2019 more than 20,000 MBA members attended nearly two dozen MBA conferences and summits; after March 2020, when it became apparent that in-person meetings would be impossible for an extended period—that fell to zero.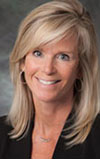 The impact was immediate—several of MBA's signature spring conferences, including the MBA Secondary Market Conference in New York, were canceled. And as the coronavirus raged relatively unchecked throughout the summer, any hope for in-person conferences in fall 2020 fell by the wayside as well.
But the need for conferences and education remained—and from this came opportunity. It was up to MBA, said Chief Operating Officer Marcia Davies, to adapt to changing conditions and pivot to meet members' needs.
"It was critically important for MBA to engage with its members and convey important information while providing a way for them to connect with their peers," Davies said. "Members normally would have done this in-person. That need increased during the pandemic—and we have responded accordingly."
"MBA has been one of the leaders in meeting innovations," said Elaine Howard, MBA Vice President of Meetings. "MBA never wanted to leave a void; we had to find a way to stay relevant in that area."
The pivot began almost immediately. MBA launched MBA LIVE in May 2020 with its annual "State of the Industry" presentation, which served as a kind of "shake-out cruise" for the virtual format. It applied lessons learned a week later with a virtual MBA Legal Issues and Regulatory Compliance Conference and followed that in June with the virtual MBA Technology Solutions Conference. All three events were well-attended, and the interactive elements earned positive feedback from attendees.
By autumn 2020, virtual meetings were old-hand for the MBA Meetings Department. MBA held several more signature conferences, including the MBA Risk Management, QA and Fraud Prevention Forum; the MBA Regulatory Compliance Conference; and the MBA Accounting and Financial Management Conference.
But the highlight was the first MBA Annual Convention & Expo, which took place over three days in October and attracted more than 2,000 participants. MBA virtually replicated the in-person experience as much as possible, with general sessions, breakout sessions, a virtual Expo Hall, its popular HUB showcases, a Meeting Gallery—and even ConcertMBA, featuring singer-songwriter/businessman John Ondrasik, known by his stage name Five for Fighting.
"We invested in and designed our own three-dimensional platform to host our Annual Convention, 'MBA LIVE,' which has robust ability for keynote presentations, video chatting and breakout sessions," Davies said. "We were able to pull these capabilities together in a matter of weeks."
"MBA is doing its best to replicate the in-person experience as much as we can," Howard said. "It's hard in a virtual world, but we've included video chat for everyone—including exhibitors—and engagement rooms so people can schedule meetings with each other, as well as the Meeting Gallery, so it's like being in a hotel room to hold a meeting. It's almost like having your own meeting room."
Feedback from MBA members has been "overwhelmingly positive," Davies said. "We have created a unique experience in this space. We've been able to enhance the member experience and put it on this unique platform.
This winter, MBA put on its second "major" virtual conference—the MBA Commercial Real Estate Finance/Multifamily Housing (CREF) Convention & Expo—that also attracted more than 2,000 participants. And this month, MBA holds its all-new Spring Conference & Expo—combining all of MBA's signature spring conferences—the MBA Independent Mortgage Bankers Conference; the MBA Secondary & Capital Markets Conference & Expo; the MBA Servicing Solutions Conference & Expo; and the MBA Technology Solutions Conference & Expo.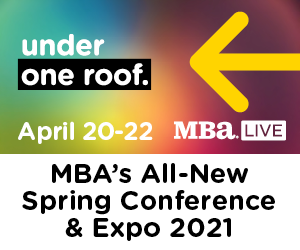 Offered via MBA LIVE, the Conference allows you to hear from strong lineup of speakers on the Main Stage, including HUD Secretary Marcia Fudge; Federal Housing Finance Agency Director Mark Calabria; Andre Perry, Senior Fellow with the Brookings Institution; New York Times columnist David Pogue; and business legend Gary Cohn. The Sports Event will feature NFL coach Herman Edwards and the mPower event will feature communications consultant Ruth Sherman. More than 50 exhibitors are registered. (To register, click here. For more information, visit here.)
"Since we're creating a virtual world, we can bring all of these together under one roof so that members' specific disciplines can be there," Howard said. "At the same time the General Sessions bring everyone together. It enables us to leverage keynote speakers and not take away from their respective focuses."
Davies said combining four conferences into one creates the best of worlds—a deep dive into specialty areas; the ability to explore other areas; live chat with peers across the entire residential real estate finance industry; and innovative solutions from exhibitors in the virtual HUB.
"Because of the investment we made in building our platform, an exhibitor has several ways to show their products and engage with attendees," Davies said. "They can network real time; they can schedule meetings; they can download information from a booth and put it in a virtual briefcase. We worked hard with exhibitors and sponsors in a way that they could showcase their products."
Another feature is the "instant archive"—sessions will be recorded and instantly available during the Conference and for a month afterward for attendees. "If you miss something—a certain breakout or general session—everything is on demand very quickly," Howard said. "Video on demand has been one of most successful part of our platform."
As coronavirus restrictions ease and the country opens up more, MBA will continue to adapt. "Virtual meetings are never going to beat the face-to-face experience," Howard said.
With that in mind, Davies said MBA plans to hold its 2021 Annual Convention & Expo in person, in San Diego, from Oct. 17-20. "Virtual has been great during this pandemic, and there will be a place for virtual content going forward, but nothing replaces the energy and the connections when you can gather in-person," she said. "While I'm really proud of how MBA was able to pivot to a virtual conference environment, we have received a lot of feedback about how excited members are to meet in person again. The virtual experience was great for the pandemic; but they are eager to see each other again."