March New Home Sales Roar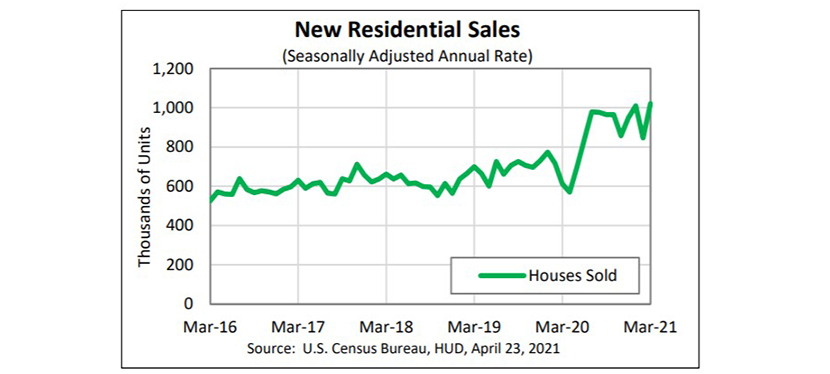 March comes in like a lion and out like a lamb, the saying goes, but it evidently doesn't apply to new home sales.
HUD and the Census Bureau on Friday reported sales of new single-family houses in March jumped to a seasonally adjusted annual rate of 1,021,000, 20.7 percent higher than the revised February rate of 846,000 and 66.8 percent higher than a year ago (612,000).
Regionally, every region saw double-digit increases in sales except for the West, which saw sales fall by 30 percent in March to 147,000 units, seasonally annually adjusted, from 210,000 units in February. From a year ago, sales in the West fell by 2 percent.
In the South, sales jumped by 40.2 percent in March to 694,000 units, seasonally annually adjusted, from 495,000 units in February. From a year ago, sales nearly doubled, increasing by 90.1 percent. In the Midwest, sales rose by 30.7 percent to 132,000 units in March from 101,000 units in February and increased by nearly 80 percent from a year ago. In the Northeast, sales rose by 20 percent in March to 48,000 units from 40,000 units in February and jumped by nearly 110 percent from a year ago.
"As expected, the new home sales report released today by the Census Bureau showed a sharp rebound in March following a cold weather-induced February slump," said Doug Duncan, Chief Economist with Fannie Mae, Washington, D.C. "While weather events explain much of the recent volatility in new home sales, we believe the underlying trend remains strong. An extremely tight supply of existing homes for sale and favorable mortgage rates continue to drive demand for new homes. In turn, homebuilders are struggling to keep up with demand."
Duncan added the March increase in homes sold-but-not-yet-started "likely points toward continued strength in new home construction in coming months."
"The rebound in new home sales actually understates the strength of the housing market," said Mark Vitner, Senior Economist with Wells Fargo Securities, Charlotte, N.C. "Demand is exceptionally strong throughout most of the country, and buyers have a fistful of dollars accumulated from relief checks and savings built up from when they were not dining out, attending concerts, traveling or spending money for other discretionary items or services during the pandemic."
Vitner said home builders are selling homes faster than they can build them. "The strength in home sales has caused many builders to limit sales in new home communities," he said. "Builders still face a litany of supply chain bottlenecks, ranging from lumber and plywood to countertops, cabinets, molding and appliances. Shortages of shipping containers and the slower rollout of vaccinations in Canada, Europe and many developing countries mean that these bottlenecks will likely persist until later this year or well into 2022."
The report said the median sales price of new houses sold in March was $330,800. The average sales price was $397,800. The seasonally adjusted estimate of new houses for sale at the end of March was 307,000; this represents a supply of just 3.6 months at the current sales rate.