Hassan Rashid: From Promise to Reality: Achieve Digital Transformation with Automation
Hassan Rashid is Chief Revenue Officer of Santa Clara, Ca.-based Tavant, a digital products and solutions company that provides impactful results to its customers across North America, Europe and Asia-Pacific.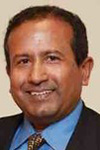 Albert Einstein once said, "In the midst of every crisis, lies great opportunity." This statement rings true considering the tumultuous past year, marked by a monumental shift in consumer behavior. The mortgage industry in particular was greatly impacted, however, a great opportunity has also emerged. The financial services industry as a whole continues to evolve at a rapid pace, driven by customer expectations, advancements in technology, and heightened competition from incumbents and new entrants. Lenders that seize this opportunity will not only survive, but ultimately thrive well into the future. In contrast, lenders content on simply surviving, taking more of a "wait-and-see" approach, may quickly become irrelevant.
Despite the uncertainty, many lenders chose to forge ahead and are now able to celebrate pandemic-related accomplishments, such as implementing digital technologies in just weeks rather than months or years and making faster decisions amid uncertainties. Businesses that effectively adjusted their business operations during the pandemic are already witnessing the growth potential. Lenders that viewed the pandemic as an opportunity to migrate to digital technologies have been deservedly crowned "thought leaders" and are leaders amongst their peers. The pandemic propelled transformation into hyper-speed, with automation continues to be the critical catalyst driving the technology advancements.
What is driving digital mortgage?
For lenders, the pandemic has acted as a catalyst to adopt digital technologies and stay competitive in this changing environment. A robust digital presence is practically required to meet the evolving needs of consumers. There are numerous challenges in the current mortgage lending process that the industry's stakeholders encounter.
On one front, there are many issues pertaining to operational process inefficiencies. Also, there is enormous pressure on the lenders from the customers' side to simplify the process and bestow an enhanced user experience. While consumers want convenience, lenders wish for efficiency. Prioritizing digital mortgages enables lenders to close loans quicker, reduce costs, and maximize productivity. Gartner has predicted that by 2024, organizations will reduce operational costs by 30% by combining hyper-automation technologies with redesigned operational processes.
Challenges: Joining up the dots
Lack of transparency and visibility
The mortgage industry suffers from a lack of transparency and visibility with so many stakeholders involved in the process. Mortgage transactions involve various legal and financial intermediaries that add to the complexity of the mortgage process leading to loss of visibility for the lenders.
High operational cost
One of the prime challenges of the existing lending process is mortgage cost. According to Mortgage Bankers Association, the average cost to take a mortgage loan is close to $9,000 per loan. In addition, the closing costs are also pretty high at an average of $ 7,227 per loan. This is because numerous disparate systems and hours of manual work consistently disrupt the origination process.
Long processing time of mortgage loans
The existing mortgage loan process is extremely cumbersome and typically takes a very long time to be completed. For the most part, cross-verification of various stakeholder data and troublesome paperwork are the main contributing factors to long processing times for mortgage loans.
Lack of delightful user experience
Today's consumers crave speed and transparency. They are habituated to one-click experience and honest customer reviews. These consumers are well informed. Many do most—if not all—of their investing and banking online. All this happens in real-time, so it is only logical they seek a home financing experience that serves along the same lines. One of the most pertinent questions of the lending industry is why borrowers cannot get the mortgage process started whenever they want. Borrowers now desire a mortgage process that does not limit itself only to business hours.
How automation OR digital transformation overcome these challenges can add value?
Adopting Technology That Matches Consumers' Expectations
Today, customers expect a lot from their lenders. They look for immediate responses to inquiries and anticipate online portals that can process their requests anywhere, anytime.
What is the point of automating your processes?
The benefits are twofold.
First – automating tasks are going to help you reduce your costs. Automation cuts your back-office's overhead, minimizes human error, and enables you to process more loans in significantly less time. That is huge. But also – those same benefits are transferrable to your customers. If you think otherwise, you may want to think again. We live in an era of instant gratification and immediate results. When was the last time you remember that you sat through a 3-minute commercial break?
Enhancing Mortgage Lending Visibility
Each step of the lending process is digital with workflow automation, which indicates you can gather data with each step. Hunting down a loan application to figure out its current status is now a thing of the past. You can look for any document within your document management system, and immediately find out its process status.
Embracing Automation with a Human Touch
The lending space is highly competitive. Whether they are buying their first home, moving, downsizing, or upsizing, consumers expect their mortgage providers to become financial partners. Lenders cannot afford to simply check off boxes to make sure that potential homeowners meet credit criteria. They need to create the winning conditions that provides customers with confidence in their own mortgage process. This is exactly where the human side of mortgage lending comes into play.
Consumers desire digital, but they also crave guidance in a decision of this magnitude. Even though digital mortgages are secure and convenient, some consumers will always prefer to apply for a loan in a non-digital way. Now, the easiest way to lose a customer is to coerce them into doing things your way.
To succeed in the mortgage business, organizations need to offer a combination of knowledgeable loan officers who can steer buyers toward the best financing options, along with the kind of automation that drives e-commerce. With tech and humans working together, teams can spend significant time adding value to the mortgage process, while automated processes can look after administration tasks.
Bringing efficiencies and Increasing profitability in the mortgage process
Leveraging digital technologies will result in the reduction of operating costs, while increasing profitability and efficiency. Digital technologies, such as content and document management tools, can help reduce overhead paperwork, thereby reducing costs.
Delivering Consistent Customer Experiences with automation
Comprehensive use of data analytics and AI/ML techniques, along with other next-gen technologies, can simplify the mortgage process. By taking advantage of the immense amount of digital data available, mortgage providers can leverage next-gen technology to automate aspects of the mortgage application process, drastically reduce loan processing times, and enhance customer experiences tenfold.
Many businesses strongly believe that RPA can help them save their time on redundant tasks and increase the quality and the accuracy of their work. The latest report by Gartner indicates that there will be continued growth in the coming years for RPA, estimating the market value to reach more than $12 Bn by 2023.
Is RPA a good fit for mortgage and lending?
The back offices of mortgage lenders today are inundated with documents related to loan origination. Borrowers are required to send various documents electronically, which then gets verified by lending teams. The verification process involves many repeated elements, such as reviewing and confirming data accuracy on everything right from identity to income to assets. There is a prime opportunity for process automation given the formulaic nature of these documents.
Through capabilities such as OCR, data entry, screen scraping, and rules application, software robots can efficiently perform the review and verification process. They can also deal with the task of notifying borrowers about the receipt and verification of their documents. RPA allows the lending team to focus on looking out for outliers, such as when documents are of poor quality or unrecognized. Human intervention can then provide the quality assurance needed to approve the document, including contacting the borrower.
RPA is an ideal option when used for simple "yes or no" questions and "if–then" tasks. Since the mortgage underwriting process is loaded with such conditions, it actually makes this the perfect fit for the mortgage process. RPA can efficiently capture and input loan data into the LOS. This subsequently automates one of the most tedious and time-consuming parts of an underwriter's job –manual data entry– allowing them to spend more time analyzing unstructured data.
The Verdict is in: Embrace Change
The mortgage industry is drastically changing—and we intend to evolve with it. Automation is currently a hot topic in financial services and has proven itself a critical operational efficiency driver—relieving human resources to seek more strategic roles. Not just that, because financial services is such a highly regulated industry, automation can be transformational in terms of addressing critical demands for data quality, security, and operational resilience.
In essence, automation is a means to an end, and the desired end is digital transformation.
Finding the right automation mix
"Digital transformation, when done right, is like a caterpillar gruesomely transforming into a butterfly, but when performed wrong, all you have, is a really fast caterpillar."
The array of possible automation approaches raises challenging questions for organizations: How do we proceed? What is the best option to pursue? How do we connect the dots? Each of these automation approaches has a role, but they need to work together to enable the most efficient, efficient automated environment.
A truly effective digital transformation involves the right approach—and the right leadership to drive it. Some companies are seeking to set up digital innovation outposts while others are planning full-scale transformations; however, all projects call for commitment and a clear strategy. What is right for a business entirely depends on the organizational maturity and digital transformation goal.
(Views expressed in this article do not necessarily reflect policy of the Mortgage Bankers Association, nor do they connote an MBA endorsement of a specific company, product or service. MBA NewsLink welcomes your submissions. Inquiries can be sent to Mike Sorohan, editor, at msorohan@mba.org; or Michael Tucker, editorial manager, at mtucker@mba.org.)