Under One Roof: MBA Annual 20 Oct. 19-21 on MBA Live; Early Registration Deadline Sept. 30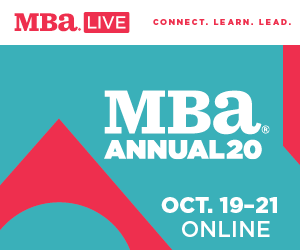 Join us online for the MBA Annual Convention & Expo 2020. We're bringing the most anticipated industry event of the year directly to your house.
Whether you're at home or in the office, use our new MBA LIVE virtual platform for your complete convention experience. Our broadcast format streams our keynotes and industry experts, allows you to huddle with your peers in virtual breakouts, and provides a venue to discover the latest products and solutions in THE HUB. It's the convention experience you've come to know and love, reimagined for today's environment.
MBA Annual20 keynote speakers include MBA President & CEO Bob Broeksmit, CMB; incoming MBA Chair Susan Stewart; presidential historian Jon Meacham, civil rights icon Andrew Young; and baseball legend Ron Darling.
Let's blow the roof off of MBA Annual20! Don't delay, register today!
To register and for more information, click https://www.mba.org/conferences-and-education/event-mini-sites/annual-convention-and-expo. Early registration deadline is Sept. 30.