Andrew Young: Lessons of the 1960s Applied to Today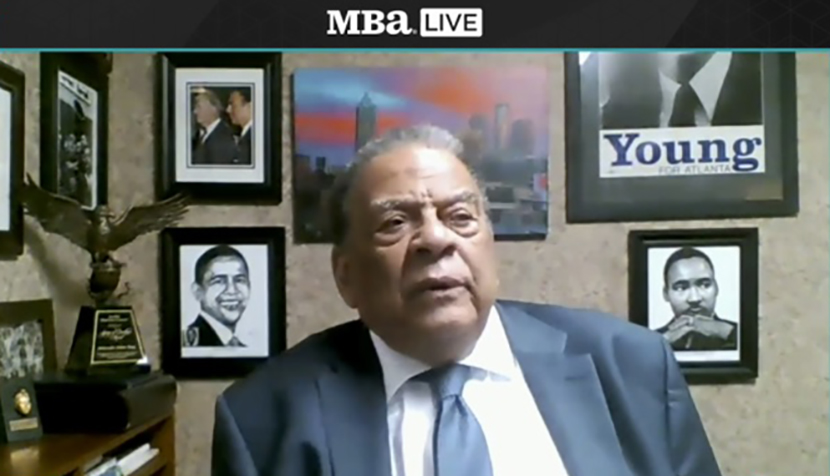 (Andrew Young, appearing at the MBA Annual Convention & Expo Oct. 19.)
Andrew Young has served and shaped our country for more than 50 years. And he sees a lot of parallels between the 1960s and today.
"In the '50s and '60s, the turmoil came from incidents," Young said. He called the lynching death of Emmett Till and Rosa Parks' refusal to give up her seat on the bus pivotal moments. "Rosa Parks was a quiet, sweet seamstress," he said. "She never spoke above a whisper. If she was mistreated on a bus, then the buses were not safe for anybody."
Young said his friend, the Rev. Dr. Martin Luther King Jr., went to Montgomery, Ala. to finish his Ph.D. "He was trying to stay away from controversy by going to Montgomery," he said. "But God had another plan and two weeks after he mailed in his thesis, Rosa Parks sat down on that bus, so Martin was called in to service and he never left it until his dying breath in 1968."
In the 1960s, it took a "tremendous amount out of time and activity" to organize a demonstration, Young said. "In fact, it took almost three months to organize a demonstration in Birmingham (Ala.)," he said. "That gave us time to talk with the business community, to meet with leaders both Black and White. Everybody knew what was going to happen and what we were looking for."
Young noted only 55 people went to jail with Dr. King when he was arrested in Birmingham in 1960. "Whereas when we watched George Floyd's death (in May in Minneapolis), it sparked a massive outcry," he said. He compared the nation's reaction to Floyd's death to the famous Life magazine cover photograph of a young Vietnamese girl fleeing a Napalm attack in 1972. "It was that kind of picture that made the American people say, 'No, we don't want to be a part of this.' And I think that's what happened with George Floyd's death. We sat there for eight and a half minutes watching him die and knowing that it was not necessary."   
We live in a world of "constant change," Young said. "I think that keeps us creative, but it also keeps us insecure. So if we can develop some confidence in our federal government, in the United Nations, then we can do almost anything."
America is a "blessed nation," Young said. "People come here from all over the world and bring their talents," he said. "The mixture we've created here is capable of managing this planet. If we are sensitive and secure and work together, there is almost nothing we can't accomplish."
Mortgage Bankers Association 2021 Chair Susan Stewart, CEO of SWBC Mortgage Corp., San Antonio, interviewed Young during the MBA Annual Convention & Expo 2020. She reported her key initiative while leading MBA will be promoting minority homeownership.
"For years, I have been deeply concerned that Blacks, Hispanics and other minority groups lag behind in homeownership rates," Stewart said on Monday. She noted the national homeownership rate is 65 percent, "but Black homeownership rates are only 44%, which is close to its lowest level in 50 years," she said. "For Hispanics, the homeownership rate is hardly better, at 49%, and for Asians, it's 59%. As an industry we cannot accept these terrible statistics. Behind these numbers are millions of families who've been pushed to the sidelines of the American Dream. They deserve better – and we must do better."
Stewart said MBA will double down on its commitment to diversity. "Diversity matters for two simple reasons," she said. "First, it's right. We should always seek to provide opportunities to people of all backgrounds. That's just basic fairness. Second, it's smart. A more diverse workforce will help us find new ways to serve the homebuyers of today and tomorrow. As the economy and the culture change, our companies must change with it."